Almora Tour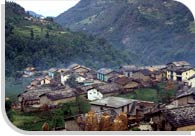 The Switzerland of India
Celestial mountain beauty, rich culture, glorious history, ancient temples, dense forests, arresting valleys, wooden houses, lovely lakes and beautiful rivers, this is what Almora is all about. This popular destination of Uttaranchal is around 500 year old town, still retaining its old-world charm. Acting tourists from the world over, Almora is considered the cultural heart of the Kumaon region of Uttaranchal. Almora is popularly known as the 'Switzerland of India'.
"In these hills, nature's hospitality eclipses all men can ever do. The enchanting beauties of the Himalayas, their bracing climate and the soothing green that envelopes you leaves nothing more to be desired. I wonder whether the scenery of these hills and the climate are to be surpassed, if equalled, by any of the beauty spots of the world. After having been nearly three weeks in Almora Hills, I am more than ever amazed why our people need go in Europe in search of health." These are the words said by Mahatma Gandhi in praise of the overwhelming town of Almora.
Almora Attractions

Govind Vallabh Pant Public Museum
Govind Vallabh Pant Public Museum is a great tourist destination to visit in Almora. It houses a rare collection of the wonderful 'Apen' folk paintings and other precious articles of the bygone era.
Katarmal Sun Temple
It is a beautiful temple with mind boggling sculptures. Built 800 years ago, the temple complex houses 50 temples, each having its own unique charm. The Mahashivratri Mela is celebrated with great devotion and joy at the temple in the month of November.
Deer Park
It is a beautiful park located only at a distance of 3 km from Almora.
Bright End Corner
It is a famous spot where you can treat your eyes to the overwhelming sunrise and sunset views. It is located 2 km from Almora. The peaceful atmosphere of this place will make you feel rejuvenated.
Vivekananda Memorial
Situated near the Bright End Corner is the Vivekananda Memorial, a place where Vivekananda had rested for a while on his journey to the Himalayas.
Martola
A visit to Martola, a picnic spot, will make your day as it is a captivating place surrounded by gardens. It is located 10 km from Almora. Majority of the population inhabiting this place are foreigners.
Nanda Devi Temple
ttracting thousands of devotees from across the country, Nanda Devi Temple occupies an important place on the map of Uttaranchal. Located in Almora, the temple is a 1000 year old temple. The walls of the temple are adorned with amazing carvings. The Dance Festival hosted at the temple is a great even to watch.