Uttranchal Food and Cuisine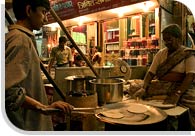 The wonderful state of Uttaranchal will surely tantalize your taste buds with its mouth-watering culinary delights. The cuisines of the state are not only high on taste but nutritive value also. Keeping in mind their high energy requirements due to the cold and hilly terrain, the people of Uttaranchal are quite particular about the ingredients of their meals. If you happen to visit Uttaranchal during its fairs or festivals, then don't miss its festive food. Uttaranchal is the place where you can gorge on both vegetarian and non-vegetarian dishes.
Rice is the staple food of Uttaranchal and at least one meal of the people consists of rice. Lentils are used liberally by the people of the state. An interesting fact about the cuisine of the state is that it also involves the use of cannabis seeds, locally known as Bhang. This ingredient is used as a spice. 
Don't forget to ask for the most relished dish of Uttaranchal; Bhatt(a variety of soya bean) and the gahat(also called kulath). The people of Uttaranchal are very fond of  badis (dried balls of urad dal). Tomato is used in very small quantities in Uttaranchal cuisine. The people of Uttaranchal use mustard oil or pure ghee in the preparation of these delicious dishes.
During your stay in Uttaranchal you can try out various delicious cuisine such as Gahat ki Dal, Rus, Aloo ke Gutke, Singal, Kumaoni Raita, Jhangora ki kheer, Sani hui Muli and Nimbu, Bal Mithai, Kaafli, Arsa, Kulath Phanu and Gulula.
The mouth-watering Kesar Halwa is a special dish of Uttaranchal, which is specially prepared during the festival of Basant Panchami. This festival is celebrated with great fervor in the month of January/February.
Enjoy the gastronomic delights in Uttaranchal and you will remember the taste for long!