History of Uttranchal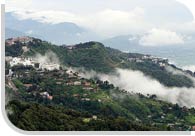 Now renamed Uttarakhand, Uttaranchal is a new state which was once the part of the state of Uttar Pradesh. In Sanskrit, the word Uttarakhand literally means 'North Country or Section'. This beautiful state finds mention in the ancient Hindu scriptures as the combined region of Kedarkhand and Manaskhand. During the ancient times the land of Uttarakhand was an abode of the great sages and the heavenly deities as well. The holy river Ganga, the daughter of heaven, came down to the earth in Uttarakhand. The land of Uttarakhand has numerous pilgrimage centers, each having its own great legend to tell.
The Kols were the first inhabitants of Uttarakhand. During the Vedic period, the Indo-Aryan Khas tribes started sharing the land of present day Uttarakhand with the Kols. During the Vedic times, many sages also lived in Uttarakhand. The great sage Vyasa inscribed the Great Hindu Epic Mahabharata in Uttarakhand. It is believed that Pandavas lived in this region for a few days.
Many dynasties ruled over Uttarakhand and the first one to establish their supremacy was the Kunindas in the 2nd century B.C. They were great devotees of Lord Shiva. They were involved in the trade of salt with Tibet. Buddhism was also followed during this period. With great efforts of Shankaracharaya, Brahmanical rule was re-established in Uttarakhand. From the beginning of the 7th century to the 14th century, the land of Uttarakhand was ruled by the Katyuri dynasty of Khas.
The medieval period saw the consolidation of the two kingdoms of Uttarakhand: the Gharwal Kingdom and the Kumaon Kingdom. During the period between the 13th to the 18th century, Kumaon Kingdom gained prosperity. The wonderful art of painting also developed during this period. Later in the 19th century, the Gurkhas from Nepal started conquering Uttarakhand. In 1816, the Anglo-Nepalese War broke out, resulting in the re-establishment of the Garhwal Kingdom but Kumaon was surrendered to the British as part of the treaty of Sagauli. Finally India got its independence and Uttarakhand was freed from the British rule. Today Uttaranchal is developing as an individual state at its own good pace.