Joshimath Travel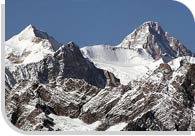 Holding the attention of nature lovers from far and wide, Joshimath is a captivating hill station. Located ideally in the mountain slopes above the rivers Alaknanda and Dhauliganga, the hill station enjoys a salubrious climate.
The name Joshimath is a distorted version of the Sanskrit word 'Jyotirmath', the place of the Jyotirlinga of Shiva. It is believed that sage Shankracharya established one of the four piths (centers) for sanyasis at this place. Joshimath falls on the way to Badrinath and it is believed that lord Vishnu resides at this place in the winters.
Attractions of Joshimath
The Temple of Narshimha
It is a beautiful temple built in honor of lord Narshimha, an incarnation of lord Vishnu. An arm of the idol of the lord is said to be decreasing in length daily, and it is believed that the day it breaks off, the road to Badrinath would get blocked permanently.
Auli
Located 16 km from Joshimath is Auli, famous for its winter sports such as Ice Skiing. The only way to reach Auli is by rope way from Joshimath.
Nanda Devi National Park
If you are a wildlife freak, then you must not miss the fascinating Nanda Devi National Park located 23 km from Joshinath. Established in 1982, the Park was declared a World Heritage Site by UNESCO in 1988. Sprawling over an area of 630.33 sq km, the Park is rich in both flora and fauna. The best time to visit the Park is from April to October. The Park is home to numerous wildlife species such as Himalayan tahr, serow, goral, snow leopard, Himalayan black bear, brown bear, leopard and langur, Himalayan musk deer. This Park is a paradise of birds with around 80 species. The commonly sighted birds in the Park are warblers, gresbreaks, rose finches and ruby throat.