Kausani Tour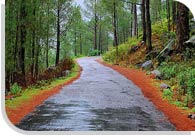 The Mountain Beauty
Tourists travel to Kausani in great numbers for an exhilarating traveling experience. Kausani is a mesmerizing hill station located 53 km from Almora in Uttaranchal. There are several spots in the hill station, which offer commanding views of the Himalayan peaks like Trisul, Nanda Devi, Nandakot and Panchchuli. This hill station is one of the most beautiful destinations of Uttaranchal. Located at an altitude of 1890 m, Kausani is located amidst dense pine trees overlooking Someshwar valley on one side and Garur and Baijnath Katyuri valley on the other. The original name of Kausani was Valna and it is also the birth place of Sumitra Nandan Pant, the renowned poet of Hindi literature. Kausani is also a land of orchards flooded with  apples, peaches and pears. The best time to visit Kausani is from April to June and from September to November.
Kausani Attractions
Views of The Snow-Capped Mountains
This is the most enthralling attraction of Kausani which makes it the pride of the great Himalayas. Mountain lovers, Kaausani is the perfect place for you! The various vantage points on the hill station fascinate the tourists with overwhelming views of sunrises and sunsets.
Anasshakti Ashram
It is a popular landmark of Kausani where Mahatma Ghandhi stayed for a few days. He wrote his commentary of Anashakti Yog at this Ashram. The ashram has a research center and a library. It also houses a Gandhi memorial which reminds the visitors of the teaching of Mahatama Gandhi.
Pant Museum
The birth place of a famous Hindi literature poet, Pant Museum is a great place for literature lovers. Retaining its old-world charm, this place serve as a reference library showcasing the great work of the poet. Researchers from across the country flock to the museum.
Lakshmi Ashram
As has been rightly commented, "a noble life is one dedicated to noble work", the Lakshmi Ashram is such an organization working for a noble cause. This place is dedicated to social service, the upliftment of women. The surroundings of the ashram are covered by the dense pine forest.
Trekking
Kausani offers tremendous opportunities for trekking. The hill station also serve as the base for treks such as Adi Kailash trek, Base Kasauni trek and the Bageshwar Sunderdhanga trek.
There are numerous beautiful places around Kausani, which are also famous for their immense natural beauty and serenity such as Baijnath, Bageshwar, Chaukori, Berinag, Gangolhat, Patal Bhuvaneshwar and Gwaldam.