Kumbh Mela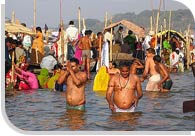 Manifestation Of Faith.
"Hinduism is not just a faith. It is the union of reason and intuition that cannot be defined but is only to be experienced." - Dr. Sarvepalli Radhakrishnan
With utter beauty of worship, refining your soul laden with recurrent maladies, Kumbh Mela in Hinduism emerges as a unique blend of worship, devotion and empowerment. It is the largest congregation of pilgrims, from different parts of the world for a religious purpose. Held in high esteem, Kumbh Mela is an important Hindu Pilgrimage.
It is lauded as an important and ancient North Indian festival. Acknowledged for being the largest religious gathering in the world, it is attended by millions of pilgrims during its celebration period. It is celebrated in India since Vedic times.

Location of Kumbh Mela
Attracting an overwhelming number of devotees from across the country, Kumbh Mela is held four times every twelve years, once at each of these four places—
In Maharashtra: In Nashik on Godavari
In Uttarakhand: In Haridwar on Gange
In Madhya Pradesh: In Ujjain on Shipra
In Uttar Pradesh: In Allahabad on the rare confluence of Ganga, Yamuna and the mythical Saraswati.

The Maha Kumbh Mela (Great Kumbh Mela) is a sacred event that is hosted once in twelve years at Prayag (Allahabad), and draws around 60 million devotees.
During the Vedic period, the Gods and demons decided to work together to churn out amrit (nectar of immortality) from the Ksheera Sagar (primordial ocean of milk). Both the Gods and demons had mutually agreed to equally share the amrita afterwards. After a lot of hard work, the demons cheated on the gods and ran away with the urn of nectar. The Gods ran after the demons and fought with them for 12 years for the urn of amrita.
According to sages of that era, during the battle, drops of amrita fell on four places on earth—Prayag, Haridwar, Ujjain and Nashik. Hence, the Kumbh Mela is celebrated at these four places.

Kumbh Mela begins every twelve years on the auspicious day of Makar Sankranti and continues for the next 40 days. According to astrology, this is the day when the sun and moon enter Capricorn and Jupiter enters Aries. It is believed that on this day the passage from Earth to heaven is open.

Kumbh Mela at Nashik
The Sinhasta Kumbh Mela is held in Nashik, once in every 12 years. The holy town of Trimbakeshwar is revered for the origin of River Godavari. It also houses one of the 12 auspicious Jyotirlingas in India. Ram Kund is the holiest ghat in Nashik. The main tourist attractions in Nashik are Ram Kund, Muktidham Temple, Coin Museum, Takli and Pandavleni Caves.

Kumbh Mela at Haridwar
Fondly called as the 'Gateway to the Lord', Kumbh Mela at Haridwar is a very revered occasion. Located in the foothills of Shivalik Ranges in Uttarakhand, it is an important religious, cultural and spiritual centre in India. The religious attractions in Haridwar are Har ki Pauri, Mansa Devi Temple and Chandi Devi Temple.

Kumbh Mela at Allahabad
Lauded as one of the holiest cities in India, Allahabad in Uttar Pradesh is famous for its religious fervour. The celebration of Kumbh Mela, once in every 12 years, connects Allahabad further with the tenants of Hinduism. The main religious attractions in Allahabad are Hanuman Temple, Ashoka Pillar, Allahabad Fort and Swaraj Bhawan.

Kumbh Mela at Ujjain
Situated in Madhya Pradesh, Ujjain is embroidered by the holy Shipra River. It is an important site of Hindu pilgrimage. Kumbh Mela is the greatest fair in Ujjain, held once in every 12 years. The religious attractions in Ujjain include Harsiddhi Temple, Kaliadeh Palace, Gomti Kund and Bhartrihari Caves.

The Kumbh Mela bathing dates are as follows:
Bathing Dates of Kumbh Mela Ujjain 2016
22 April 2016 (Friday): Purnima- Full Moon
06 May 2016 (Friday): Vaishakh Krishna Amavasya
09 May 2016 (Monday): Shukla Tritya
11 May 2016 (Wednesday): Shukla Panchami
21 May 2016 (Saturday): Purnima