Uttranchal People & Culture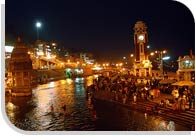 Uttaranchal is popularly known as 'Dev Bhoomi', meaning the land of Gods, and this very sentence echoes how rich the culture of this land is. The vibrant culture surrounds its friendly people, languages, folk dance and music, cuisine, fairs and festivals, architectural marvels( temples and monuments), traditions and arts and crafts. The majority of people in Uttaranchal are Hindus. The main language spoken in the state is Garhwali. The Ganga, the most sacred river of India has its origin in Uttaranchal. The holy river is considered a living deity representing the spiritual facet of the culture of Uttaranchal.
Still retaining its old-world charm, the culture of Uttaranchal fascinates many a tourist with its colorful and delightful aura.
Fairs and Festivals
Celebrating life in the form of various fairs and festivals, the people of Uttaranchal have a great passion for fairs and festivals. Throughout the year they have some or the other fair or festival to celebrate. Some of the main festivals of Uttaranchal are Makar Sankranti, Basant Panchami, Harela, Phooldei, Bat Savitri, Ganga Dusshera. The most important religious fair of the state is the Kumbh Mela which is celebrated in Hardwar every twelfth/sixth year. Holding sheer religious and historic importance, this is the largest religious fair in the world. Attracting millions of visitors, the Mela is one-of-its-kind.
Dance and Music
Dance and music is like the brightest jewel of any culture and this jewel of Uttaranchal is truly wondrous. Almost all the celebrations in the state are marked with dance and music performances. If you get a chance to enjoy the dances of Uttaranchal such as Jharva, Chandhur Chhapalior, don't miss the opportunity as they are the most famous dance forms of the state. The melodious and popular folk songs are Malushahi, Biar and Hurkiya Bol.
Handicrafts
The colourful handicrafts of Uttaranchal have gained international fame for their beauty and quality. Be it wood craft, paintings or ornaments, the craftsmen of Uttaranchal know all the tricks of the trade very well.
Cuisine
A wide variety of delicious culinary delights are available in Uttaranchal. Most of the people of the state are more inclined towards vegetarian food, though there is of course a minority non-vegetarian population. Treat your taste buds to some of the popular dishes of Uttaranchal: Garhwal Ka Fannah, Chainsoo, Kafuli, Jholi, Paanu, Thehwani, Baadi, Ras, Arsa(dessert), black and white roti and many more.