Taj Mahal Tour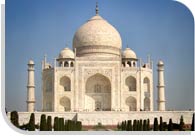 The Eternal Love Story Carved In Marble
Renowned the world over for its sheer beauty, magnificent architecture and picturesque location, the Taj Mahal is synonymous with love. The very sight of this wonderful structure transports one into the bygone era, reminding one of the world famous love story of Mumtaz Mahal and the Mughal Emperor Shah Jahan. Taj Mahal is a mausoleum located in Agra, Uttar Pradesh, India, built in 1631 by the  Mughal Emperor Shah Jahan in memory of his beloved wife Mumtaz Mahal. The pride of India, Taj Mahal is the finest example of Mughal architecture. It is a mesmerizing blend of Persian, Turkish, Indian and Islamic architectural styles. Four minarets at the base of Taj Mahal are exquisitely carved and were studded with gems and precious stones at one point of time. These minarets were built with an aim to prevent any kind of damage to Taj Mahal in case of an earthquake. Within the beautiful dome of Taj Mahal lies the jewel-inlaid cenotaph of the queen.
Taj Mahal bagged the title of UNESCO World Heritage Site in the year 1983 and was called as "the jewel of Muslim art in India and one of the universally admired masterpieces of the world heritage". The arresting monument has been an inspiration to many poets, painters, artists, sculptors and photographers.  Nobel Prize winner Rabindranath Tagore, in one of his famous quotes described Taj Mahal as "a tear drop that glistened spotlessly bright on the cheeks of time". Taj Mahal carved out of white and yellow marble is located on the banks of River Yamuna looks absolutely extraordinary. Taj Mahal is one of the seven wonders of the world and visitors from across the globe visit India to see this architectural wonder.
Taj Mahal, the epitome of beauty and elegance was built in 22 years with the help of around 20,000 workers who spent day and night in its construction. Even during that time the emperor spent 32 million rupees in the construction of  Taj Mahal. Building material was brought to the site from all over India and central Asia, and it took a fleet of 1000 elephants to transport them.  It is surrounded by geometrically shaped lush green gardens, which look very charming. The charm of the Taj Mahal increases manifold on a moonlit night when it looks exceptionally romantic.
Taj Mahal, the saga of love is truly worth a visit!