Adventure Destinations in North India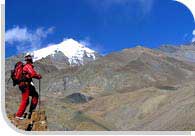 Are you a dreamer who is always engrossed with the thoughts of adventure? If so, then head for one of the most adventurous, enthralling and challenging tourist destinations in the world, North India. It overwhelms its tourists by offering great adventure opportunities no matter what the age. North India is an 'adventure world' in a word.
Adventure opportunities in some of the Famous North Indian States Are:
Adventure in Rajasthan
Rajasthan is a land with varied topography, making it a destination synonymous with adventure. It is a land of world famous National Parks such as Ranthambore National park, Sariska and Keoladeo Ghana National Park. Sand Dunes and Camel Safaris in Rajasthan is an experience in itself. Such safaris also include camping in the desert. Luxurious camps are available for an exhilarating experience. Other adventure sports you can enjoy in Rajasthan are Hot air Ballooning, Camping, Polo, Trekking, Kite Flying, Cycling,Vintage Car Rally, Boating, Water- Skiing, Angling and Horse, Jeep and Elephant safaris.
Adventure in Uttaranchal
Travel to Uttaranchal and you will be lost in the adventure opportunities it offers. From trekking to river rafting, mountaineering, skiing and aero-sports, Uttaranchal has so much to treat the adventure dreamer in you. Some of the most beautiful trekking destinations of India are located in Uttaranchal.
Adventure in Himachal Pradesh
Take a plunge into the exciting adventure sports of Himachal Pradesh. The lofty mountains adorned with snow, beautiful rivers, dense forests, treacherous passes, enchanting valleys and romantic lakes beckon you to soak in adventure in Himachal Pradesh. You have a lot of options to choose from such as trekking, rock climbing, mountaineering, river-rafting, skiing, camping, golf, ice-skating, para-gliding, hang-gliding, wildlife safaris and fishing.
Adventure in Uttar Pradesh
To please the adventurer in you, don't forget to have Uttar Pradesh in your tour itinerary. The northern region of Uttar Pradesh offers adventure opportunities in abundance. Refresh your body and mind by going on nature walks, indulge in trekking, mountaineering, cycling, para-gliding and skiing. Also visit the wildlife sanctuaries of Uttar Pradesh for a wide variety of wildlife experience.
Adventure in Jammu and Kashmir
Adventure offered in Jammu and Kashmir is as fascinating as the destination itself. It is a land of mountain beauty offering the best opportunities for mountaineering. Apart from this adventure sport, Jammu and Kashmir is famous for trekking, skiing, aero-sports, golf, river-rafting and gold. Enjoying adventure in the 'paradise on Earth', Jammu and Kashmir is an experience of a lifetime.
Adventure in Ladakh-Leh
The celestial Ladakh-Leh invites you to inject sheer adventure in your trip. You can enjoy the beauty of Ladakh-Leh on a jeep safari, Camel safari and Yak safari. Adventure in Ladakh-Leh has its own unique charm. Tourists from across the globe come here throughout the year to enjoy mountaineering, wildlife safaris, cycling, and trekking.

Adventure in Delhi
Delhi, the capital city of India also has its own share of adventure to offer tourists. On your tour to Delhi you can enjoy angling, fishing, boating, trekking, rock climbing and para-sailing.