North India Hill Stations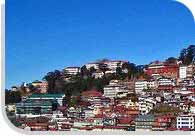 North India is blessed with numerous hill stations, enveloped in breathtaking natural beauty. Tourists from all over the world come to the hill stations in North India to spend pleasurable and memorable holidays.
Some of the famous hill stations in North India are:
Discovered by the British in 1819, Shimla is the queen of hill stations in India.
The green valleys, scenic beauty, colonial architecture and adventure sports and several other tourist attractions are the striking features of this arresting hill station. Shimla is located in Himachal Pradesh, North India. read more...
Snow-capped mountain peaks and the sheer natural beauty of Manali attracts many a tourist every year. The historical temples of Manali have their own unique beauty. Adventurous tourists can indulge in adventure sports such as trekking in Manali, Himachal Pradesh. read more...
Enjoy the beautiful locations and stunning lakes at the mesmerizing hill station of Nainital, Uttaranchal. The colourful markets of Nanital offer goods at reasonable price. read more...
Surrounded by the Great Himalayas and the Karakoram mountain ranges, Ladakh is a fantastic hill station of North India. Its unsurpassed beauty can be best seen in its snow-capped mountains. Ladakh is one of the best hill stations ideal for trekking. read more...
Plan a visit to Pahalgam, high on aesthetic beauty quotient. In fact it is the most famed hill station in Kashmir valley. Apart from enjoying the scenic beauty of this destination, tourists can pamper themselves with wildlife safaris and fishing expeditions. read more...
Srinagar, the capital city of Jammu and Kashmir, is a heavenly destination whose beauty is simply unparalleled. Its canals, houseboats and Mughal gardens are very popular with tourists. A shikara ride on Dal lake in Srinagar is something which should be a part of your itinerary. The lakes of Srinagar are filled with houseboats, villages, narrow water canals, lotus, vegetable gardens, houses and shops. How unique! read more...
Overlooking a beautiful lake and encircled by rolling hills, Mount Abu is the only hill station in the majestic Rajasthan. The Dilwara Jain temples in Mount Abu are renowned the world over for their architectural beauty. There are several other tourist attractions in Mount Abu, which leave the visitors enchanted. read more...