Qutub Minar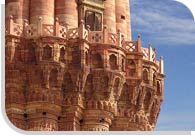 One of the most skilful and artistic Islamic architectures, the Qutub Minar is known as the tallest brick minaret in the world. The basic foundation of the Qutub Minar was laid by Qutubuddin Aibak AD 1199. People believe that the motive behind establishing the tower was to signify the beginning of the Muslim rule in India. While some others believe that it served as a minaret to the muezzins to call the faithful to prayer.
Qutab-ud-din Aibak could only finish the ground floor, to which were added three more storeys by his son-in-law Shamsuddin Iitutmish in 1368. Later, Firoz Shah Tughlak constructed the fifth and the last storey. All the five storeys are marked by a projecting balcony. The first three storeys are made of red sandstone, the fourth and fifth of marble and sandstone. The place is also visited for the famous Ashoka Pillar dating back to the 5th century.
Architecture
This 13th century minar rises to 72.5 mts (about 238 feet) and is covered with intricate carvings and deeply inscribed verses from the holy 'Quran'. Qutab Minar has a diameter of 14.32 m (47 feet) at the base and about 2.75 m (9 feet) at the top.
The area near the minar is a huge complex that has a number of important monuments, such as:
Iron Pillar: One of Delhi's most curious antiques, this iron pillar is famous as the Ashoka Pillar. This 7 m high, and about 1600 years old pillar is made of 98 percent wrought iron and has stood without rusting or decomposing. The inscription on the pillar states that it was erected as a flagstaff in honour of the Hindu god, Vishnu, and in memory of the Gupta king Chandragupta II (375-413). As the myth goes, it is believed that if anyone can encirle it with his/her hands, with their back towards the pillar, his/her wish will be granted.
Quwwatu'l-Islam Masjid: One of the oldest existing mosques in India, Quwwatu'l-Islam is located adjacent to the Qutub Minar and is known for marvellous designs and Islamic inscriptions. The mosque was built by Qutubuddin in 1198, using  carved stone slabs and materials of the remains of Hindu Temples.
The Tombs of Altamish, Alauddin Khalji and Imam Zamin: Made of red sandstone and depicting the Arabic architectural patterns.
Alai Darwaza: The gateway built in 1310.
Alai Minar: 27m high tower, standing north of Qutub Minar. Constructed by Alaud-Din-Khalji with an intention of making it twice the size of Qutub; he could only complete one story.
With 379 steps, this world heritage site is an excellent example of the Indo-Islamic architecture of ancient India.