Food and Cuisine Of Delhi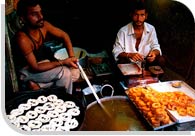 There are two kinds of people- those who eat to live and others who live to eat. Delhiites belong to the second category !!
The cuisines and restaurants in the city make it one of the best places to dine in India. Delhi's delicious cuisine is a part of its rich culture. From Chinese, Thai, Mughlai, French, Italian, Moroccan, Lebanese, Israeli, Indonesian and Swiss- Delhi has a touch of all the flavours. All of these mouth-watering dishes can be found at any of Delhi's traditional restaurant or local eating joint. The Delhiites are so fond of eating, that you can not find any unhappy table whether it is a wedding or a special social occasion or just a regular dinner.
Almost all the star rated hotels in Delhi offer separate menu for Chinese, Italian, Tandoori, South Indian, Punjabi, Gujarati and Rajasthani food. Punjabi and Mughlai are the best for an experience of traditional spicy food of India. Be it vegetarian food or non-vegetarian, the Punjabi and Mughlai dishes are prepared with various spices and additives. Mughlai cuisine goes back to the days of emperors. Old Delhi/Chandni Chowk is the famous area to try any of such dishes. It is the oldest eating joint of Delhi. Even today, the area tops the chart for all kinds of vegetarian and non-vegetarian dishes. Karim's, Paranthey Wali Gali, Haldiram's, Jalebi Wala, Ghantewala etc. are some of the renowned shops of Chandni Chowk.
Areas like Bengali Market, Sunder Nagar, Greater Kailash and Chanakyapuri are famous for tempting Chaats, Bhelpuri, Gol Gappas and other fast food items. Besides, Dilli Haat is another delightful outlet that comprises of a number of food stalls serving the delicacies of different States at very reasonable rates.
A meal is incomplete without the famous
Kulfi-Faluda and Paan
. Though Delhi offers a number of Punjabi, Rajasthani, Bengali and South Indian sweets,  Kulfi-Faluda in Delhi is unbeatable. Kulfi is a sort of chilled thickened milk, topped with saffron, nuts, cardamom, and eaten with rice noodles called Faluda. It is simply the Indian version of icecream. Last but not the least is Paan. This traditional Indian item is a folded betel leaf, filled with areca nuts, lime, cardamom, clove, nutmeg, and grated coconut.