About Delhi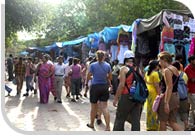 Famous for its versatility, Delhi is the glorious capital of India. The city showcases the rich heritage and speaks volumes about the history of the country,which dates back to the 13th century. Several rulers ruled over Delhi and left behind numerous architectural wonders. The city is divided into Old and New Delhi, each of which has its own share of attractions. Delhi is one city of India where there is no shortage of things to do and see. From history to heritage to culture, Delhi's attractions are plentiful. The fabulous landmarks and monuments are must-see destinations. Delhi is a major political, cultural and commercial city of India. The liveliness of Delhi culture clearly manifests in its theatre, music and dance events, which are hosted in several auditoriums now and then.
Location
Located in North India, Delhi is the third largest city of the country. It covers an area of 1,483 sq km.
Tourist Attractions Of Delhi
Home to many wonderful attractions, Delhi is an enchanting city of India. Reflecting  India's Muslim history, Old Delhi is dotted with mosques, forts and monuments whose architecture narrates the story of the bygone era.  On the other hand, New Delhi has some new buildings apart from the great historic ones.  Some of the famous attractions of Delhi are the Red Fort, Chandani Chowk, Raj Ghat, Shanti Van, Humayun's Tomb, Purana Quila, India Gate, Qutub Minar, Rashtrapati Bhawan, Jantar Mantar, Jama Masjid, Safardarjung's Tomb and Rajghat. There are many museums in Delhi, which house rare collections of antiques. The National Museum, the National Gallery of Modern Art, The Doll Museum and The Rail Transport Museum are a few to name.
Flora And Fauna Of Delhi
The shisham tree (Dalbergia sissoo), neem, banyan, jamun, keekar and acasias dominate the plain areas of Delhi. The banks of Yamuna are full of typical riverine vegetation consisting of weeds and grass. Delhi boasts of some beautiful gardens and parks. The Rose Garden, Garden of Five Senses, Deer Park, Nehru Park, Buddha Jayanti Park and the Mahavir Jayanti Park are a few to name.
Delhi is quite rich in fauna. The jungles, low forests and hilly ridges of the city are a shelter to animals like leopard, fox, wolves, jackals and hyenas. Wild boars are found along the banks of river Yamuna. Monkey population is quite high in the capital. Avian species in Delhi include partridge, pigeon, parrot,pea fowl and bush quail.
Shopping In Delhi
Delhi is a shopper's paradise as it has several markets and shopping malls. From new markets to the old ones, both with their own charm, Delhi has it all. You can shop for anything from jewellery to carpets, handicrafts, precious stones, silks, metal ware, leather ware and handicrafts of different states in Delhi. Connaught Place, Chandani Chowk, Karol Bagh are some of the best shopping destinations of Delhi. You can also visit the emporiums at Baba Khadag Singh Marg near Parliament where you will get handicrafts of various states of India at reasonable prices. Dilli Haat is a great shopping destination where you will find good quality handicrafts of different states under one roof. Janpath is another great shopping haunt where you can get amazing items at very reasonable rates. If you wish to buy specific designer items, then head for shopping malls.
Climate
Delhi experiences an extreme continental type of climate. The weather is quite hot in summers as the temperature ranges from 25º C to 46º C. The winters are quite cold with average temperatures around 12-13oC  . During monsoon Delhi receives an average rainfall of approximately 714 mm.
Best Time To Visit
The best time to come to Delhi is from October to March.
How To Reach
By Air: Indira Gandhi International Airport is connected by national and international flights.
By Rail: Delhi is connected to various cites of India by a good railway network.
By Road: Delhi is well connected to all the major cities of North India.