History of Delhi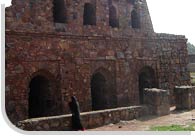 Delhi, an emotional home for all religions, is a unique city with a diversified history.  Empires rose and fell, and the city has lived through wars and resurrection, repeatedly rising from the ashes. The great epic Mahabharata reveals that the Pandavas founded their capital Indrapratha in the region, known as Khandava-prastha. The city also witnesses the glories of the Maurya Empire during the 3rd century BC. The city flourished under the dynasties of the Tomaras, Chauhans, Mughals, Slave Kingdom, Khalji Afghans, Tughlaqs, Sayyids, Lodhi and the British. These empires left behind a plethora of monuments, where every delapidated wall talks of a different legend.
The glorious history of Delhi is more than 5000 years old. Embedded within the Aravalis on its south and northwest and the Yamuna on its east, Delhi for the first time became the capital city when the Pandavas established their capital Indraprastha at Delhi in 1450 BC. The excavations of Indraprastha, located within the fold of the sixteenth century Purana Qila, reveal evidence of continuous habitation of the site for almost 3000 years.
Evolution Of Eight Small Cities in Delhi
Lal Kot was the first city of Delhi, which was founded by the Tomar ruler Anangpal, in 1060 AD. The site was further expanded by the Rajput king Prithviraj Chauhan. As Qutbuddin Aibak became Delhi's first 'Sultan' in 1206, he built India's tallest stone tower 'Qutub Minar' at the same site. Alaud-Din Khalji, the subsequent ruler (1296-1316), built the second city around Siri, followed by Tughlaqabad- the third city, by Ghiysud-Din Tughlug (1321-51) and Jahanpanah- the fourth city in 1327. The present day's Firozabad, founded by Firoz Shah Tughluq (1351-88), was the fifth city of Delhi. It is now represented by Firoz Shah Kotla, the famous ground. The great ruler Humayun was the person who laid the foundation for the sixth city- Dinpanah (later destroyed and reconstructed as the Purana Qila by Sher Shah Suri). The Mughal dynasty provided Delhi with an admirable architectural glory. Shah Jahan (1628-58), the grandson of Akbar, built the seventh city of Delhi- Shahjahanabad. This seventh city remained the Mughal capital until 1857. As the East India Company shifted the capital of India to Delhi in 1911, the eighth city 'New Delhi' was designed in the imperial style of architecture.
Coming to the architectural patterns, the inscription of the Mauryan King Ashoka (273-236 BC) was discovered near Srinivaspuri in 1966. Apart from this, the famous Iron Pillar near the Qutub Minar is supposed to have been commissioned by the emperor Kumara Gupta-I of the Gupta dynasty (320-540) and transported to Delhi around 10th century. Therefore, the history of Delhi, revolving around various kings and emperors, gives you an insight to the rich heritage of Indian culture and tradition.