Ladakh Adventure Sports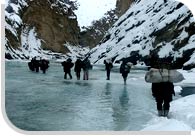 The Adventurous Land of Ladakh
Ladakhi mountains are the most spectacular mountain ranges in the world. When it comes to adventure and sports no other destination offers as many choices as Ladakh. The geographical diversity and seasonal variety of Ladakh offers a year round destination for everyone. There are mountain adventures, river rafting options, aero-sports and many other adventure options.
Trekking
This famous adventure activity is also an excellent chance to observe the lifestyle of the people living in the nearby villages. Ladakh is an ideal destination for trekking. With a number of treks including the Last Shangrila, Lamayuru-Padum trek and Stok Kangri trek, Ladakh takes you down to villages where you can experience the monastic life style of the isolated villages.
Trekking in these areas may be a few days long or may last for several weeks.
Skiing
Skiing has gained immense popularity in the past few years. It is the activity of gliding over the snow, and requires a lot of skill and practice.
Aero-sports
The hight altitude mountains of Ladakh are perfect for aero-sports. One can enjoy a glide through the paradise and can ascend above the clouds. Paragliding is the most popular activity in Ladakh that offers a bird's eye view of the lush and beautiful meadows and the ice covered peaks. Although paragliding requires experience, amateurs can also try it out under the supervision of guides or trainers. Paragliding originated in the late 1940's by Dr. Francis Rogallo, a ground breaker in aviation. Those who do not wish to opt for so much thrill and risk, may go for Hot Air Ballooning to have a wonderful view of the snow desert, valleys and peaks from the sky. The best time to for aero-sports in Ladakh is May-June and September-October.
Mountain Climbing
The Pir Panjal range, Zanskar Range (encompassing the famous massif of Nun-Kun), Stok Kangri, Parcha Kangri, Gulap Kangri etc are several well known peaks that attract thousands of tourists and adventure seekers every year for mountaineering.
River Rafting
Indus River and its major tributaries form the hot destination for river rafting. The white water stretch on the Indus between Spituk and Nimo or Saspol is a favourite rafting point for professional rafters. One can also go river rafting along the 26 km stretch from Fhey to Nimo in the Indus River.
Ladakh Jeep Safari
It offers a wonderful trip to the high altitudes and the mountains of Ladakh that seem to youch the skies in the horizon. Jeep Safari is a fascinating experience showcasing the great heights and snow deserts of Ladakh.
Ladakh Cycling
Cycling in Ladakh is an exciting activity but it requires a lot of technicalities. One must be a very good biker to try out this sport in the narrow and steep areas of Ladakh.
Camel Safaris
Bactrian camels (double humped camels) are a major attraction in Ladakh. These camels provide the tourists with long rides across the sand dunes around Hunder in Ladakh.
Besides,
Polo and Archery
are other popular sports in Ladakh. Almost every village of Ladakh has polo grounds. There is a
National Archery stadium
in Leh that hosts Archery contests in Ladakh.