North India Pilgrimages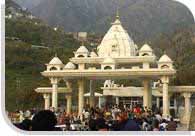 India is a land of gods and goddesses, clearly reflected in its numerous pilgrimages. North India abounds in several religious sites where the devotees come from far and wide. Each pilgrimage in North India has its own unique legend to tell. A visit to the sacred places in North India offers immense peace of mind and happiness to the devotees. However, the only thing required for this is 'faith'.
Some of the famous pilgrimages of North India Are:
Vaishno Devi: Perched at an elevation of 5,200 ft above sea level, Vaishno Devi shrine is located in Jammu and Kashmir. Dedicated to goddess Vaishno, the shrine is held in high esteem by Indians. The devotees enter a cave through a narrow opening and walk through ice-cold waters to reach the shrine to receive blessings. read more...
Mathura-Vrindavan: These two holy places combined together are called Brajbhoomi where once upon a time Lord Krishna took birth and showed his cosmic leela. The devotees from across the world come to this pilgrimage site to attain enlightenment. read more...
Kailash Mansarovar Yatra: Located to the north of the Himalayan barrier at an elevation of 6740 m, Kailash Mansarovar Yatra is the pilgrimage centre for four great religions; Tibetan Buddhism, Hinduism, Jainism and the pre-Buddhist animistic religion-Bonpo. This place is blest with an extremely wonderful scenic beauty.
Char Dham: The Char Dham Hindu pilgrimage consists of four sacred pilgrimage sites—Yamunotri, Gangotri, Sri Kedarnathji and Sri Badrinathji. It is believed that a visit to Char Dham frees one from the sufferings of birth and death. read more...
Buddhist Pilgrimages: The four important Buddhist pilgrimages are Lumbini, Bodhgaya, Sarnath and Kushinagar. Ladakh is an important Buddhist centre in North India, which is dotted with several Buddhist monasteries.
Dargah Sharif: It is one of the most important pilgrimages of Muslims. Located in Rajasthan, Dargah Sharif is visited by the devotees of different religious backgrounds. It is believed that a prayer offered with faith at the Dargah never goes unanswered. Urs is the festival celebrated at the Dargah every year, attracting pilgrims from across the country. read more...