Dharmshala Tour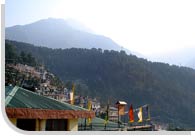 Cloaked in nature's pristine beauty, Dharamshala is the perfect place to get soaked in peace and scenic beauty. It is the most beautiful place in the Kangra Valley in Himachal Pradesh. The land of Dharamshala is endowed with pine-clad hills, beautiful streams and rivers, lofty peaks, ancient temples and pagoda-shaped monasteries. There is much to explore and experience in Dharamshala. It is popularly known as the residence of the Dalai Lama and a center of Tibetan Buddhism.
The mesmerizing Dhauladhar mountains form the backdrop of Dharamshala, offering picturesque views. Dharamshala is ideally located on the high slopes in the upper regions of Kangra Valley. The town is divided into two sections: the Upper and Lower Dharamshala, which differs almost a thousand meters in height. Upper Dharamshala is called McLeod Ganj, retaining a British colonial atmosphere, whereas lower Dharamshala is the commercial center.
Attractions of Dharamshala
Apart from natural beauty, the land of Dharamshala has a lot to offer:
Kangra Art Museum
Showcasing Kangra valley's cultural heritage in the form of various arts and crafts dating back to the 5th century, Kangra Art Museum is a must- see destination of Dharamshala. A gallery in the museum is dedicated to the miniature paintings, sculptures, pottery and anthropological items.
War Memorial
Built in memory of the heroes of Himachal Pradesh, the War Memorial is located in a refreshing environment.
Dall Lake
Hemmed in by Deodar trees, the Dall Lake is a beautiful lake located a mere 11 km from Dharamshala. Spend some time by the lake in the lap of nature. It is a popular picnic spot.
St. John Church
Located just 8 km from Dharamshala, St.John Church is visited by many a tourist.
Tatwani And Machhrial
A 25 km drive from Dharamshala will bring you face to face with the two wonderful attractions: hot water springs at Tatwani and a waterfall at Machhrial.
Bhagsunath Temple
It is an ancient temple located 11 km from Dharamshala. There are several fresh water springs near the temple, considered sacred by the Hindus.
Kunal Pathri
This place is famous for the beautiful rock temples.
Dharmkot
Pay a visit to this fabulous place located 11 km from Dharamshala to capture the picture-perfect views of the Kangra Valley and Dauladhar ranges.
Chinmaya Tapovan
It is a peaceful ashram housing a 9 m high idol of Lord Hanuman, a Ram temple, a meditation hall, a school and a health center.