Kufri Tourism
A Destination For Adventure Sports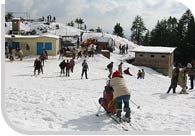 Kufri is an amazing destination for those who are inclined towards adventure sports such as hiking and skiing. Kufri is a wonderful hill station located in the Shimla district of Himachal Pradesh. The word Kufri is derived from the name Kufer, which literally means pond. It is easily accessible from Shimla as it is only 13 km from it. Kufri was once a part of Nepal and was developed into a tourist destination by the British. Kufri is the perfect place for adventure lovers. The picturesque surroundings, pleasant climate and opportunities for adventure sports make Kufri a popular destination of Himachal Pradesh. Tourists from far and wide come here to explore its tourist attractions. The beautiful valleys and forests of Kufri are visited by many adventure enthusiasts. During the winters the view of the snow-covered mountains in Kufri are simply fascinating. Indulge in a Yak ride in Kufri and spice up your holidays. The best time to visit Kufri is from December to February. During the winter season one can enjoy the charm of snowfall in Kufri.
Attractions of Kufri
Himalayan National Park
Himalayan National Park is home to a wide variety of wildlife. Rich in flora and fauna, the Park has a good population of avian species. Some of the wildlife spotted here are musk deer, ibex, black and brown bears and pheasants. Enjoy a safari in the Himalayan National Park and satiate your thirst for wildlife.
Indian Tourist Park
Blessed with mind-boggling scenic beauty, the Indian Tourist Park is a wonderful place for photography. Being a famous picnic spot of Kufri, it is flocked by many a visitor.
Mahasu Peak
Mahasu Peak is the highest peak in Kufri, offering breathtaking views of its surroundings. The path leading to the peak is surrounded by wooded forests of spruce and deodar. The Mahasu Ridge offers a great opportunity for skiing. The slopes at Mahasu Peak are best for beginners. During the winters Mahasu Peak gets flooded with adventurous tourists.
Sports Festival
It is a unique and exciting festival celebrated in the month of February. It is organized by the Himachal Tourism where many courses for beginners are organised. However, the skiing competition is the main highlight of the festival. Highly skilled skiers flock to this place to participate in the event.
Horse and Yak Safari
Tourist can explore the natural beauty of Kufri on a horse or Yak safari. It is truly an interesting and adventurous way to explore any place.