Bilaspur Tourism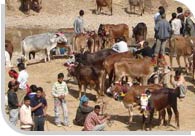 The beautiful town of Bilaspur can be best introduced as the first planned hill town of India. Covering an area of 1,167 sq km, Bilaspur town is located in the Satluj valley. The district encompassing Bilaspur town shares its boundaries with Una, Hamirpur, Mandi and Solan districts. The river Satluj passing through the district adds more charm to it. The best time to visit Bilaspur is from September to December. The history of Bilaspur dates back to the 7th century. It is bordered by seven hills namely Naina Devi, Kot, Jhanjiar, Tium, Bandala, Bahadurpur and Rattanpur.
Tourist Attractions of Bilaspur
Nalwari Cattle Fair
Stretching for around five days, the Nalwari Cattle Fair of Bilaspur is an exciting event. The fair is held in March/ April every year attracting visitors from far and wide. Several entertaining activities are a part of this fair and wrestling is one of them. The owners of the cattle decorate their cattle beautifully before bringing them to the fair as this is the time when they get an opportunity to strike great deals.
Bahadurpur Fort
Almost in ruins, the Bahadurpur Fort is perched on a hill at an elevation of 1980 m. The fort is surrounded by the beautiful deodar trees. Built around 1830, the fort is located at a distance of around 40 km from Bilaspur.
Shri Naina Devi Temple
Located on a hill overlooking a bustling bazaar, the Shri Naina Devi Temple is a beautiful temple. One can reach the temple either by climbing the stairs or through a ride in a cable car. The choice is yours.
Sariun Fort
Located at an elevation of 1500 m, the Sariun Fort was originally built by the king of the erstwhile Suket state. Later it was conquered by the ruler of Bilaspur.
Vyas Cave
It is an interesting cave located on the left bank of river Satluj. It is believed that Vyas Rishi meditated in this cave in the ancient times. This cave is a famous pilgrimage of Himachal Pradesh.
Bhakra Dam
It is one of the most famous attractions of Bilaspur as it is the highest straight gravity dam in the world. Covering an area of 168 sq km, the dam is 90 km in length. It offers panoramic views of the surrounding jungles.
Raut Nach Festival
Dance is something the people of Himachal Pradesh are passionate about and this clearly reflects in their annual Raut Nach Festival. This dance festival is mainly the festival of the cowherds of the state. It is held in the month of December every year.