Solan Tourism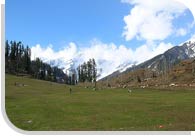 Solan, a land named after goddess "Shoolini", is an attractive destination for holidaymakers. Located in the Solan district in Himachal Pradesh, Solan city fascinates its tourists with its several attractions. It is popularly known as the "mushroom city of India" as it is has a mushroom centre situated in Chambaghat. Solan city is ideally sandwiched between Chandigarh(Punjab) and Shimla(Himachal Pradesh). This city was established by the British during their hey-days in India. Perched at an elevation of 1467 m, Solan is a also known as the industrial hub of Himachal Pradesh. During the winters Solan takes on a new look altogether, to be more precise it looks like a celestial destination as it gets cloaked in snow. The area surrounding this wonderful city abounds in vegetables such as peas, tomatoes, ginger and beans.
Attractions of Solan
Solan Valley
Steeped in scenic beauty, Solan valley offers picturesque views of its surroundings. Go for a nature walk and treat your senses to fresh air and pleasant environment. Lush green vegetation is a great refreshment to the body, mind and soul. Away from the hustle bustle of city life, the Solan valley offers peace in plenty.
Gurkha Castles
Most of the Gurkha castles are in ruins but yet there is something charming about them. Retaining their old-world charm, Some of the castles have stood the test of time.
Kamura Fort
This magnificent establishment is located at an altitude of 2,600 m and is visited by many a tourist. It is an assortment of houses encircled by beautiful fields and orchards.
Dr. Yashwant Singh Paramar University Of Horticulture and Forestry
This University is the first of its kind in Asia. Sprawling over an area of 550 hectares in Solan district, the University was established in 1985 by Dr. Y.S.Paramar, the first Chief Minister of Himachal Pradesh. There are around 14 departments in the university.
Sholoni Devi Temple
This beautiful temple is dedicated to goddess Sholoni Devi. This temple is famous for its  Sholoni Devi fair, which is celebrated with great fervour every year in the month of June. The fair reflecting the great cultural heritage of the Solan district is flocked by visitors from far and wide.