Himachal Pradesh Fairs and Festivals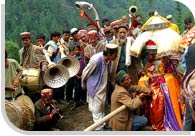 The land of Himachal Pradesh is like a canvas, painted by many hues of the fairs and festivals of the state. Age-old customs and traditions of the state are best reflected during the festive season. The joyous and vibrant voices fill the air with happiness and everyone enjoys the fairs and festivals. Almost every month the people of Himachal Pradesh have a reason to celebrate.
Famous Fairs and Festivals of Himachal Pradesh are:
Dussehra Festival
Kullu is famous all over the country for its celebration of Dussehra festival. Falling in the month of October every year, Dussehra is an important festival of the state. Showcasing the religious side of the state, the festival lasts for ten days. Its great to see the rituals performed during the festival. International Folk festival is also celebrated during the Dussehra festival. Cultural activities are organized during the festival and the beautiful handicrafts of Himachal Pradesh are also displayed. It is truly a delightful experience to participate in this festival.
Ice Skating Carnival
Shimla and Dalhousie are the venues for this adventure filled festival which is held in the month of December. The festival is marked by various activities such as ice skating, ice hockey, fancy dress competition and dance performances.
Lohri or Maghi Festival
Celebrated in the month of January every year, Lohri is an agricultural festival. The highlights of the festival are the folk songs and dance.
Himachal Winter Carnival
Come February and the fabulous destination Manali starts attracting tourists from far and wide. During this time tourists not only enjoy the beauty of the land but also get an opportunity to participate in its entertaining winter carnival. Many winter sports and competitions such as 'winter queen' are held during the festival.
Lossar Festival
It is a famous Buddhist festival of Himachal Pradesh held in the month of November/December. Prayers are offered to a local deity for well being and prosperity. Marking the beginning of the Tibetan year, the festival attracts many a tourist.
International Himalayan Festival
The advent of the winters brings with it the wonderful International Himalayan Festival. The festival is celebrated enthusiastically for three days in the mesmerizing Mcleodganj.
Some of the other fairs and festivals celebrated in Himachal Pradesh are Char, Shiaratri, Holi, Balasundari Fair, Dhungri Mela, Kaza Fair, Mani Mahesh Yatra, Ladarcha Utsav, Nanda Devi Fair etc.