Kasauli Tourism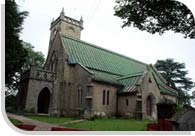 The Land of Fascinating Vistas
Kasauli, the land of superb vistas, is a charming hill station. Enveloped in a colonial influence, Kasauli is a wonderful town developed by the British before India gained its independence. It is located only 35 km from Shimla and is easily accessible. There is a legend attached to its creation. It was here that Lord Hanuman stopped while jumping from hill to hill, in his search for the Sanjeevani herb. Later a Hanuman Mandir was built at the spot where Lord Hanuman is believed to have rested his feet. The narrow winding roads of Kasauli are flanked by lush green flora. Like other hill stations of Himachal Pradesh, Kasauli is also endowed with immense natural beauty. Stroll through the narrow paths of Kasauli where you will not only enjoy the scenic beauty but will also get an opportunity to listen to the melodious chirping of some wonderful birds. The churches and bungalows built during the British rule in India are some of the amazing attractions of Kasauli.
Attractions of Kasauli
Monkey Point
The very mention of Monkey Point makes tourists think that this place abounds in monkeys but don't worry this is not the case. The place derives its name from the great Hindu mythology. Monkey Point is the highest point of Kasauli. This is an excellent place to treat your senses to breathtaking scenic beauty.
Barog
Barog was once just a stopover but over the years it has gained popularity of being a great tourist destination. The beautiful destination of Barog has an arresting environment, which  leaves the visitors enchanted. Barog also offers fantastic views of the Choor Chandni, which is popularly known as the "mountain of the silver bangle".
Another famous tourist attraction in Kasauli is the junction of
Upper and Lower Malls,
lined up with several shops stocked with amazing handicrafts.