Jwalamukhi Tourism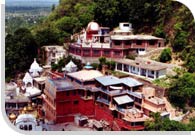 Famous for the Jawalamukhi Temple, Jawalamukhi is a town located in the beautiful Kangra district of Himachal Pradesh.
Attractions of Jawalamukhi
Jawalamukhi Temple
Jawalamukhi temple is dedicated to goddess Jawalamukhi with a flaming mouth, located 30 km south of Kangra valley. The unique feature of this temple is the presence of a copper pipe through which natural flows out, which is lit by the priest of the temple. This flame is considered to be the manifestation of the goddess. The devotees worship the flame and offer prayers to it. There are nine flames, which derive their names from the goddesses: Mahakali, Unpurna, Chandi, Hinglaj, Bindhya Basni, Maha Lakshmi, Saraswati, Ambika and Anji Devi. The flames burn continuously without any assistance and can be seen erupting from a rock-side.
Jawalamukhi Temple is one of the 51 Maha Shakti-Pithas. Devotees from across the country come here to receive blessings of the goddess. The arti is performed every morning and evening and the goddess is offered bhog (sacred food) of rabri (thickened milk), misri, seasonal fruits and milk. Havan is also performed every day. The shrine also houses a mystic yantra of the goddess, decorated with beautiful woolen garment and jewelery. The mantras are recited in front of the yantra.
Navaratra festivals which fall twice a year are celebrated with great fervor at the temple. Devotees keep a fast during the Navaratras which continue for nine days.   Participate in the colorful fairs organized during the festivals and enjoy the rich culture of Himachal Pradesh.
Nearby Attractions
Brijeshwari Devi Temple in Kangra, 35 km from Jwalaji.
Chamunda Devi Temple, 60 km from Jwalaji.
Shiva Temple at Baijnath, 85 km from Jwalaji
Chintpurni Devi Temple in Una, 35 km from Jwalaji.
Plan a visit to Jawalamukhi and see these beautiful temples, which represent the rich heritage of Himachal Pradesh.