Kullu Tour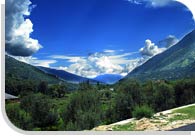 Dotted with several beautiful temples, Kullu valley is popularly known as the "Valley of Gods". Kullu is ideally located on the banks of River Beas, which is very picturesque. In ancient times Kullu used to be known as 'Kulantapitha' and this name also finds mention in the great Hindu epics, the Ramayana and Mahabharata. There are several tourist attractions in Kullu.
Attractions of Kullu
Bijli Mahadev Temple
It is a famous and unique temple in Kullu. The striking feature of this temple is its high staff that periodically draws lightning, which shatters the 'Shivlinga'.The 'Linga' is then pieced together by the pundits using butter.
Bajeshwar Mahadev Temple
The history of this temple dates back to the 8th century. The arresting stone carvings and sculpture in the Shikhara style draws attention.
Jagan Nath Temple
This beautiful temple offers impressive views of Kullu valley.
Malana
It is a small village offering great opportunities for trekking. The village also has a famous temple called 'Jamlu'.
Kasol
Located on the banks of Parabati river in Parbati valley, Kasol is a place which slopes down to a broad stretch of clear white sand.
Adventure Sports of Kullu
Go for a fishing expedition in Kullu, the most promising places for which are Katrain, Raison, Kasol and Naggar, Sainj valley and Hurla khud. Tourists can enjoy river rafting at the River Beas. Some exciting trekking routes are also available in Kullu.
Dussehra Festival of Kullu
Kullu is renowned for its Dussehra celebrations, which continue for days together. Kullu valley looks colourful and lively during the festival. The people wear colourful clothes, feast on amazing delicacies and enjoy life to its fullest. If you happen to travel to Kullu during the festive season, then make sure you don't miss its colourful Dussehra.