About North India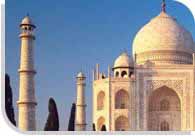 The Versatile Land
Beauty is irresistible, envelops our hearts with joy, offering us an opportunity to enjoy the divine creativity in different forms, and this is something we all seek. Your quest ends here at North India. North India is one such tourist destination in India, which will surely impress your being with its exceptional attractions. Plan a trip to North India to experience the real taste of India.
Encompassing majestic, mystic and mesmerizing tourist destinations, North India is a big hit with tourists from across the globe. A tour to North India will offer you a special and memorable travel experience which will remain etched in your mind forever. It is a home to several World Heritage Sites, Taj Mahal(the seventh wonder in the world), the sacred river Ganga(considered the most holiest river in India), luxurious palaces, massive forts, famous wildlife destinations, mighty Himalayas. In short, North India is a land with a rich cultural heritage. Each destination of North India offers adventure in plenty.
North India has numerous tourist destinations but the most popular ones are:
Rajasthan - The Land Of Maharajas
Rajasthan, the crown of North India is a destination beyond imagination. This land of Maharajas leaves its visitors enchanted with its attractions such as royal palaces, forts, havelis, beautiful temples, fabulous monuments, revivifying gardens, classic museums, renowned wildlife sanctuaries, colorful fairs and festivals, adventure sports, amazing handicrafts and delicious culinary delights. There is so much to explore here!
Uttaranchal - The Land Of Gods
Uttaranchal can be best described as the land of sheer natural beauty. Popularly known as the 'Land of Gods', Uttaranchal has numerous pilgrimages, each having its own legend to tell. Fascinating snow-capped mountains, glaciers, passes, trekking routes, hill stations, valleys, wildlife etc are all a part of Uttaranchal.
Himachal Pradesh- Natural Beauty At Its Best
Himachal Pradesh, the mountain beauty of India attracts many a tourist. Its architectural beauty is beautifully reflected in its numerous monasteries, temples and forts. It provides the experience of exploring phenomenal mountains, passes, valleys, lakes, springs, waterfalls and wildlife.
Jammu And Kashmir-The Heaven On Earth
Jammu and Kashmir, the 'Paradise on earth' is a must-see destination of North India. It is renowned the world over for its heavenly beauty and rich culture. Srinagar and Gulmarg are the most famous destinations of the state. One can enjoy the beauty of heaven only in the land of Jammu and Kashmir.
Ladakh-Leh - The Mountain Beauty
The snow clad Ladakh-Leh is the beat place for adventure sports. Highly influenced by Tibetan culture, Ladakh-Leh has several monasteries. Enjoy Yak safaris in Ladakh-Leh and treat your senses to a wide variety of wildlife species.
Delhi-The Heart Of India
Delhi, the metropolitan city is the capital of India. It offers a lot to its tourists such as the wonderful gardens, mind blowing monuments, holy places and colourful bazaars. Divided into two sections: Old Delhi and New Delhi, each section has its won speciality to offer.
Cuisine of North India
North India is truly a paradise for food lovers. It is the place where you can treat your taste buds to a wide variety of cuisine. Here you will be served both vegetarian and non-vegetarian dishes which are simply mouth-watering. Some of the culinary delights of North India have even gained international fame. Some of the best North Indian dishes are the tandoori chicken, shab deg Kashmiri Roghan Josh, makki ki roti, sarson ka saag, shahi paneer, dal-bati choorma and badaam pasanda. And some of the delicious desserts of North India are kheer, firni, halwa, gulabjamun, rasgulla etc. Lassi (butter milk) is the famous drink of North India.
Shopping In North India
Each of the North Indian states have their own unique culture offering a diverse range of handicrafts. From metal craft to pottery, stone craft, wood craft, precious and semi-precious stones, paintings and textiles. Go on a shopping spree in North India and you will surely take back home some of the finest handicrafts in the world.
Accommodation in North India
Being a famous tourist destination, North India offers a wide range of accommodation options. There are many renowned hotels in North India. Offering a comfortable stay, the hotels fall into different categories. Catering to the needs of both business travellers and holidaymakers, the hotels in North India ranges from budget to luxurious hotels. The luxurious heritage hotels give a royal taste to tourists. The choice is yours!