Palace on Wheels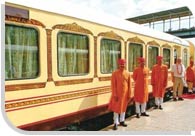 A luxurious Train Offering A Life-time Experience
The word Rajasthan is synonymous with royalty, as everything about this fascinating tourist destination is classy. An interesting way of experiencing the royalty and luxury of Rajasthan is to travel in its highly luxurious train - " Palace on Wheels". The train is rated as the 10th most luxurious train in the world. A ride on this train is one of the best ways to explore the destinations of Rajasthan and it attracts tourists from far and wide. Inspired by the life-styles of the Maharajas of the yore, the Palace on wheels welcomes one and all to indulge in the comforts, once enjoyed by the maharajas. The royalty of the train is clearly reflected in its exquisitely decorated interiors, luxuriously crafted lights, embroidered bedsheets and superb furniture. Khidmatgar wearing colourful turbans and a warm smile, are always at the service of the guests, taking care of everything from dining, lodging, sightseeing and shopping.
The itinerary of the tour on Palace on Wheels includes the following destinations: Delhi, the Pink city Jaipur, the golden city Jaisalmer, the fabulous Jodhpur, the Ranthambor National Park, the brave Chittorgarh, city of Lakes and Palaces Udaipur, the bird paradise Bharatpur Sanctuary and the romantic Agra. The train starts and ends at Delhi after covering all these destinations. Offering an 8 day / 7 night tour, the train was inaugurated on 26th January, 1982.
Palace on Wheels has an accommodating capacity of 100 passengers at a time. The 14 luxurious coaches of the train are named after the erstwhile Rajput states of Rajasthan. Each saloon is fitted with modern facilities like air conditioner, attached wash rooms, intercom, showers, running hot and cold water, a small pantry and a lounge. The train also boasts of a rich collection of multi-lingual literature. The two restaurants on board serve a variety of cuisines such as Continental, Chinese, Indian and traditional Rajasthani. If you want to refresh yourself with a drink, then head for the well stocked bar on the train. The opulently decorated interiors of the restaurants have their own unique charm. The Palace on Wheel is a great attempt to recreate the glorious era of Raja-Maharaja.
Plan a journey on Palace on Wheel and cherish a memorable experience soaked in luxury!