Shimla Tourism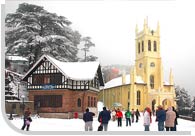 The Splendid World of Beauty
Popularly known as the "queen of hill stations", Shimla mesmerises its tourists with its snow-capped peaks, cascading waterfalls, romantic lakes, beautiful valleys and pleasant climate. The land of Shimla is also dotted with massive colonial bungalows, a testimony to the glorious history of Shimla. Shimla is the capital city of Himachal Pradesh, the land of gods. Embark on a journey to Shimla and treat your senses to its various fabulous attractions. The best time to explore Shimla is between March-June and September-November. The wondrous Shimla is a famous destination for honeymooners. Walk hand in hand with your beloved and enjoy the pristine beauty of Shimla. Many a couple flock to Shimla throughout the year not only to enjoy the scenic beauty but also to enjoy each others company in a blissful environment.
Attractions of Shimla
The Ridge Road
It is a wonderful and spacious space in Shimla offering overwhelming views of the mountain ranges. The famous Neo-Gothic Christ Church and the Tudar library are located on the Ridge.
The Mall
It is a great shopping area of Shimla, lined with many shops and restaurants.
A wide variety of handicrafts are available here. The Lakkar Bazaar located here is famous for its wooden objects. It is the best place to shop in Shimla.
Jakhu Hill
Located at an elevation of 8000 ft, Jakhu Hill is the highest peak of Shimla. It is famous for its beautiful temple called Hanuman Temple, which is almost a home of monkeys. Although the monkeys don't harm anyone as all they need is some food, visitors are advised to be careful. The temple commands a wonderful view of the city. You can hire a taxi or pony to reach the temple.
State Museum
Housing rare, ancient historic sculptures and paintings of Himachal Pradesh, the State Museum is the right place to acquaint oneself with the history of the state.
Chadwick Falls
Surrounded by numerous deodar trees, the Chadwick Falls offers a very pleasant environment to spend some quality time with nature. There are some temples located near the waterfall, the other attractions of Shimla.
Viceregal Lodge
Popularly known as the Rashtrapati Niwas, Viceregal Lodge is perched on the Observatory hills. It was once the residence of the then British Viceroy, Lord Dufferein. After India gained its independence, Viceregal Lodge served as the summer retreat of the President of India. Today, it is the Institute of Advanced Study.
Adventure sports
Some of the adventure sports one can indulge in at Shimla are trekking, skiing, golfing, river rafting, para-gliding, heli-skiing and fishing. So many options!
Best Selling Shimla Tours

| | |
| --- | --- |
| | Duration:11 Nights-12 Days |

| | |
| --- | --- |
| | Duration: 08 Nights - 09 Days |