Forts and Palaces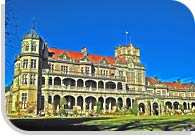 Himachal Pradesh is not only a land of scenic beauty but also a destination dotted with captivating forts and palaces which are perfect examples of human creativity. The colonial and historical mansions of Himachal Pradesh are applauded by tourists from all over the world for their architectural beauty.
Viceregal Lodge
The most talked about mansion is the Viceregal Lodge in Shimla. Popularly known as the heart of the city, the mansion is a six-story establishment with well manicured gardens and a refreshing atmosphere. There are many legends associated with the mansion.
Rang Mahal
It is a beautiful historical palace located in Chamba. Built by the erstwhile ruler Ummed Singh in the 18th century, the royal establishment is now maintained by the government department of Handicrafts of Himachal Pradesh. The department manufactures various handicrafts such as shoes, slippers etc. The interiors of the mansion is decorated with beautiful wall paintings belonging to the Kangra School. The paintings depict the stories of Lord Krishna. The most striking feature of the mansion are its exquisitely carved doors which are painted beautifully. Rang Mahal also has a Himachal emporium and a college within its boundary.
Maharaja's Palace
Located in Chail, Maharaja's Palace occupies the highest point on the Rajgarh Hill in the state of Himachal Pradesh. Once the royal residence of the rulers of the bygone era, the palace was converted into a heritage hotel in 1972. The palace offers breathtaking views of the surroundings.
Padam Palace
It is a must-see destination in Himachal Pradesh. Black gram paste was used to cement the stones of the palace.
Famous Forts Of Himachal Pradesh
Kangra Fort
Located in the mesmerizing Kangra district, Kangra Fort is the oldest fort of Himachal Pradesh. It is a famous fort with many gates and shrines. Today it is almost in ruins because of the earthquake that hit it in 1905.
Sujanpur Fort
The wonderful wall paintings of the fort mesmerize tourists who come to see the fort. The fort is located on the banks of River Beas. Popularly known as 'Tira', the fort was built by Raja Abhaya Chand in 1758.
Kamru Fort
Occupying a perfect place in an arresting location, Kamru Fort is located 229 km from Shimla. The main gate of the fort is decorated with a beautiful image of Lord Buddha.
Nurpur Fort
The foundation of the fort was laid by Raja Basu and it was initially know as Dhameri. It was later renamed as Nurpur by Jehangir, the grandson of Mughal Emperor Akbar. It is located 66 km from Dharamshala and 24 km from Pathankot.