People and Culture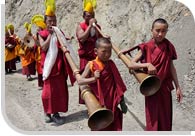 Its Beauty Lies In Its Simplicity
Retaining their age-old customs and traditions, the people of Himachal Pradesh are proud of their rich cultural heritage. But at the same time they have embraced new influences keeping in pace with the changing times. Their passion for life clearly reflects in their colourful dresses and amazing celebrations. Reflecting unity in diversity, Himachal Pradesh is a land where different religions are followed and different languages are spoken. The beauty of the culture of Himachal Pradesh lies in its simplicity. The most commonly spoken languages in Himachal Pradesh are Hindi, Punjabi, Pahari, Dogri, Kangri and Kinnauri. A majority of the people of the state are Hindus. Other inhabitants include Buddhists. There are several Hindu communities in the state such as Brahmins, Rajputs, Kannets, Rathis and Kolis. Some of the tribes inhabiting the state are Gaddis, Kinnars, Gujjars, Pangawals and Lahaulis. Although rearing of goats, sheep and other cattle is an important occupation of the people of Himachal Pradesh, most of the population is dependent on agriculture for survival.
The Fairs and Festivals of Himachal Pradesh have their own unique charm. Showcasing the rich cultural heritage of Himachal Pradesh, the fairs and festivals of the state are worth participating. During the festive season, the people of Himachal Pradesh wear colourful dresses and adorn themselves with elegant jewellery. This is also the time when the people make a variety of mouth-watering traditional dishes. Dance and music are also a part of the celebrations. Some of the fairs and festivals celebrated in Himachal Pradesh are the Kullu Dussehra, Shivratri Fair(Mandi), Shoolini Mela(Solan), Minjar Fair(Chamba), Mani Mahesh Chhari Yatra(Chamba), Renuka Fair(Sirmaur), Vrajeshwari Fair(Kangra), Cattle Fair, Chhat Festival and Navratri festival.
If we open the handicraft basket of Himachal Pradesh, a variety of colourful and beautiful handicrafts will spring out. The Pashmina shawl is one handicraft of the state, which is renowned the world over for its fine quality. Other handicrafts are jewellery, carpets, leather goods, paintings, metal ware and wood work.
The Dance and Music showcases a mesmerizing facet of the culture of Himachal Pradesh. Every celebration of the state is marked by dance and music. Different regions have their own dance forms, but folk music is popular among all the Himachalis. The popular dance forms of the state are the Rakshasa dance, the Kayang dance, the Bakayang dance, Rasa dance and the Jhoor dance.
Information on Himachal Pradesh culture is incomplete without the mention of its delicious cuisine. The day to day food of Himachalis usually consists of pulses, rice, vegetables, chapati and chutney but at the same time their menu is also tilted towards non-vegetarian dishes. Some of the specialities of Himachal Pradesh are Pateer, Chouck, Bhagjery and chutney Til. Nasasta, a sweetmeat dish is also famous.
Get soaked in the different hues of the fascinating culture of Himachal Pradesh on your trip to Himachal Pradesh!