Hatkoti Tourism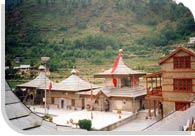 Famous for their architectural beauty, the beautiful stone temples of Hatkoti are visited by many a tourist. The Hatkoti temples are dedicated to goddess Mahishasurmardinian, the incarnation of goddess Durga. The Hatkoti temples are located in Rohru, situated a few km from the beautiful hill station Shimla. The history of the ancient Hatkoti temples dates back to the period between the sixth to the ninth century, the Gupta period in Indian history. The temples reflect the beautiful architecture of that era. The shrine houses a beautiful idol of the goddess in bronze. The idol depicts the goddess with ten arms, riding a lion, carrying weapons (and a lotus flower) and slaying the demon Mahishasura. There is an inscription on both the sides of the idol, which no one has been able to decipher so far.
The temple complex encompasses two temples: one main temple dedicated to goddess Durga and the other small temple dedicated to Lord Shiva. The wood carvings in the Shiva temple are notable. The temple complex also has some conical stone establishments built for storing grains. Other structures in the temple complex are a kirtan ghar and a rest house. It is said that at one point of time the Pandavas lived here for sometime. A fair is held at the temple every year in the month of April. During the fair, the devotees offer rice and homegrown walnuts to the Goddess Durga. It is believed that these offerings please the Devi.
Jubbal
Once the abode of the kings, Jubbal is a wonderful place located 20 km from Hatkoti temples. Jubbal is known for its stunning palace, which was designed by a French architect in the year 1930. Its architecture is a magnificent blend of the European and Indian styles. The palace is also visited for its apple orchards.
Khara Patther
If you are inclined towards adventure, especially skiing, then let yourself loose on the  sport at an upcoming skiing destination called Khara Patther. It is located on the way to Hatkoti temples.