About Himachal Pradesh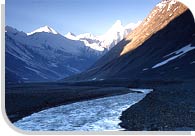 A trip to Himachal Pradesh is truly pleasurable as it is one of the most famous tourist destinations of India. This land of mountains is a celestial tourist destination where there is no dearth of tourist attractions. Himachal Pradesh is a must-see destination for those who love mountains. The state is proud of its glorious history and rich cultural heritage. There are several monasteries, temples and forts, whose architecture is praise worthy. The views of the breathtaking mountains, passes, valleys, lakes, springs, waterfalls and wildlife are sights to behold.
Location
Himachal Pradesh is a state in the north-west India. Covering an area of 56,019 sq km, Himachal Pradesh is bordered by the Indian states of Jammu and Kashmir on north, Punjab on west and south-west, Haryana and Uttar Pradesh on south, Uttaranchal on south-east and by Tibet on the east.
Tourist Attractions
Alluring tourists from across the globe, the tourist attractions of Himachal Pradesh are many in number. The most remarkable attractions of the state are its fabulous hill stations such as Shimla, Manali, Kullu, Dalhousie and Dharamsala. There are many Hindu and Buddhist pilgrimages present in Himachal Pradesh. Some of the known Hindu pilgrimages are Bajreshwari temple, Chamunda Devi temple, Lakshmi Narayan temple and Jwalamukhi temple. Main Buddhist pilgrimages in the state are Rewalsar, Guru Ghantal Monastery, Kardang Monastry and Tabo Monastry. Adventure sports is an important tourist attraction of Himachal Pradesh. Shimla and Kufri are the two  destinations famous for skiing. Rivers like Sutlej near Shimla, Beas near Kullu, Ravi near Chamba and the Chandra in Lahaul are the best destinations for river rafting. Travellers can also enjoy adventure sports like para gliding, surfing, kayaking, rowing, canoeing, mountaineering, trekking and rock climbing in Himachal Pradesh.
Flora And Fauna
Around 66 % of the total area of Himachal Pradesh is covered by forests and the variation in vegetation depends on elevation. The vegetation of the lower elevation is dominated by sal, sisham, chir pine and moist broad-leafed forests. The temperate region abounds in oaks, deodar, blue pine, fir and spruce. The vegetation of the highest elevation consists of sturdy trees and shrubs like alders, birches and rhododendrons. Himachal Pradesh is called the "fruit bowl" of India as it produces a wide variety of fruits. A range of flowers like gladiolas, carnations, marigold, roses, chrysanthemums, tulips and lilies are also cultivated here.
Himachal Pradesh is home to many species of animals. The state boasts of around 359 animal species and 1200 avian species. The state also boasts of 12 major National Parks and Wildlife Sanctuaries, the largest number in the Himalayan region. The wildlife sanctuaries and national parks of the state are rich in the population of brown bear, goral, snow leopard, serow, ibex and bharal. Musk dear, leopard and snow leopard are also found here. Some of the best wildlife destinations in Himachal Pradesh are Great Himalayan National Park, Pin Valley National Park, Chail Sanctuary, Maharana Pratap Sagar Sanctuary, Kanawar Sanctuary and Simbalbara Sanctuary.
Safaris
An interesting, and also the fastest way to explore the wildlife sanctuaries, hill stations, religious sites and villages of Himachal Pradesh is Jeep safari. Other amazing safaris tourists can enjoy in Himachal Pradesh are bike safari, river safari and Yak safari.
Shopping
Himachal Pradesh is known across India for its wonderful handicrafts, which reflect the expertise of the local craftsmen. A wide variety of shopping items are available in the markets of the state. The alluring and durable handicrafts available here are very much admired by the tourists. The rugs and carpets with floral designs are known for their quality. Buy the elegant Thangka painting to adorn your house. Poetic in theme, Kangra style of painting is quite popular with foreign tourists. A wide variety of wooden shopping items such as cradles, bedsteads, boxes, low settees and ladles are also available. Do buy some embroidered kurtas and accessories from the markets. Woollen garments are available at reasonable rates at the Government Emporia of Himachal Pradesh.
Best Time To Visit:
The best time to visit such a great tourist destination is from January to April.
Climate
Himachal Pradesh experiences extremely chilly winters and warm summers.
Temperature of Himachal Pradesh: Maximum 30°C and Minimum: 2°C .
How To Reach
By Air: Himachal Pradesh is well connected to Delhi and Chandigarh by regular flights from the three airports. The airports are at Bhuntar, Gaggal and Jubbarhatti. The state does not have any international airport.
By Rail:Being a hilly area, Himachal Pradesh has very few places, which are connected by trains. Kalka is the most important railway station in the state.
By Road: Various places of Himachal Pradesh are well connected to each other and to the major cities of north India by road. Some of the roads in Himachal Pradesh remain closed during winters due to heavy snowfall and landslides.