Spiti Valley Tour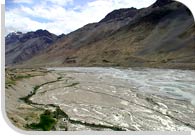 The Abode of Heavenly Deities.
Perched high in the beautiful Himalayan mountains, Spiti Valley is an enchanting tourist destination of Himachal Pradesh. The word Spiti literally means the "middle country". Endowed with salubrious climate, the valley is famous for its numerous monasteries. In praise of this wonderful valley, Rudyard Kipling, a famous English author, said "it is a world within a world and a place where the Gods live". This mesmerizing valley receives heavy snowfall during the winters. Majority of the population of this valley follow Buddhism. Sandwiched between the Zaskar and the Great Himalayan ranges, Spiti valley becomes a field of snow during the winters.
The best time to visit Spiti Valley is from June to October.
The rural culture of Himachal Pradesh can be best seen and experienced in the Spiti Valley. The valley is sparsely populated with a density of two persons per square kilometre. Agriculture is the main occupation of the people of Spiti Valley.
Spiti Valley is dotted with numerous fields where barley, buck-wheat, peas and some other vegetables are grown in plenty. The main Spiti Valley is divided into eastern and western valleys, which are connected with Ladakh and Tibet on the eastern side and Kinnaur and Kulu on the western side.
Attractions of Spiti Valley
Spiti Valley is famous for its shales (a rock of fissile or laminated structure formed by the consolidation of clay or argillaceous material). These shales or ammonites play an important role in the field of geology. Shaligram, one of the shale formations found here, is the rarest one, and is considered auspicious.
Adventure in Spiti Valley
Mountain climbing, river rafting in the Chanderbagha, rock climbing, angling, para-gliding and trekking are the fascinating adventures tourists can enjoy in the Spiti Valley.
The valley also has some interesting camping sites such as Sarchu, Darcha, Jispa, Gemur, Tandi, Koksar, Sissu and Chota Dara.
Key Monastery
Located on the top of the mountains of Spiti, the Key Monastery is one of the most famous monasteries of Spiti Valley. In fact, it is the oldest and the largest monastery in Himachal Pradesh. The beautiful sculptures of the monastery are noteworthy. The religious training provided in the monastery entails singing, dancing and playing pipes and horns.
Tabo Monastery
Known for its murals, paintings and sculptures, the Tabo Monastery is known as the 'Ajanta of the Himalayas'. It is one of the oldest monasteries in Himachal Pradesh.