Adventure Sports in Jammu and Kashmir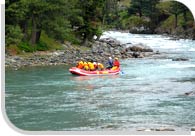 The fascinating and celestial state of Jammu and Kashmir offers a host of diverse adventure sports for the tourists seeking adventure, thrill and enjoyment.
Some of The Adventure Sports You Can Enjoy in Jammu And Kashmir Are:
Trekking
The hilly regions of the wonderful Jammu and Kashmir offer great opportunities for trekking. The state offers amazing trekking trails to choose from. Tourists can enjoy trekking to several extraordinarily beautiful Himalayan peaks. Depending on your trekking skills you can make the choice. Most of the trekking tours provide tourists with trekking equipments and camping facilities. Some of the most enchanting trekking routes are: Amarnath trekking trial, Gulmarg trekking trial, trek from Ferozepur Nala to Danwas, trek from Tejjan to Samaidan. Sonamarg is the base of a trekking trail from Gulmarg to Tosamaidan. These trekking routes will not only offer excitement to the visitors but also sheer scenic beauty.
Skiing
Skiing is an interesting and adventure filled sport enjoyed by most of the tourists visiting Jammu and Kashmir. The state is also home to the Ski Club of India, which was established in Gulmarg in 1927. Come winters and Gulmarg transforms into a paradise for skiers. It is located at an elevation of 2, 730 m above sea level. Khilanmarg is the other popular destination for skiing. Skiing season here begins in December and continues till March.
Aero-Sports
Aero-sports in Jammu and Kashmir attracts tourists from far and wide. The wonderful and beautiful Himalayas overwhelm tourists by the various opportunities for delightful sports such as Para-sailing, Para-gliding, Hot air ballooning and Para jumping.
Golf
Srinagar and Gulmarg are mind-blowing venues for the royal game Golf. The plains of these destinations hemmed in by beautiful vegetation such as Chinnar and Pine trees add beauty to the adventurous game. The best seasons to play golf here is from April to November.
River Rafting
Blessed with beautiful and romantic rivers and lakes, the valley of Kashmir is the best place for enjoying river rafting between August and September. The hot spots for white water river rafting are the two mountain streams of river Indus and river Lidder. In fact, these are the perfect destinations for beginners also.
Mountain Climbing
The wondrous Jammu and Kashmir is almost synonymous with mountain climbing. This adventure sports attracts a great number of tourists. Dotted with numerous mesmerizing Himalayan peaks, Jammu and Kashmir is truly a wonderland for tourists interested in mountain-climbing.