Art and handicrafts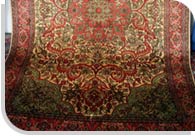 The arts and handicrafts of Jammu and Kashmir are the manifestations of the feelings and creativity springing from the hearts of its people. The arts and handicrafts of the state have earned international fame because of their beauty and quality. Most of the population of the state are in some way or the other involved in making handicrafts. Reflecting the rich cultural heritage of Jammu and Kashmir, the arts and handicrafts is a major tourists attraction, and there is a wide range of it here.
Textiles
The embroidered shawls are the most popular handicrafts of Kashmir. They basically fall into three different categories: Woolen, Pashmina, and Shahtoosh. The Pashmina and Shahtoosh are known for their fine quality (softness, warmth and lightness) because of which they are quite expensive. The cost of the shawls also depends on the embroidery done on them. Different types of embroideries such as 'sozni' and Ari or hook are done on them. Birds, trees, architectural designs and mythological figures are the popular themes used for embroidery. Jamawar is a kind of shawl,which is decorated with colorful embroidery on both the sides. Embroidered silk shawls are also available here.
Carpets
The wonderful carpets woven in Kashmir are famous the world over. They are in great demand in the international market. In Kashmir carpets are not only available in cotton or wool but also in pure silk. They are very durable. Most of the carpet designs are tilted towards Persian designs.
Wood Carving
The craftsmen of Kashmir are highly skilled in the art of wood carving. Wood carving is mainly done on walnut wood and the most popular designs carved on the wood are dragon, lotus flower etc. There are two types of wood carving practiced here: deep carving and shallow carving. Beautifully carved chairs, tables, jewelery boxes etc are available in the markets of Kashmir.
Papier Mache
Papier Mache is a well known handicraft of Kahmir which is quite famous in the European countries. Some of the papier mache handicrafts are bed lamps, pen boxes and decorative items.
Willow Work or Wickerwork
Beautiful baskets, tables, chairs etc made from the willow is a great handicraft of the state. The Hazratbal area of Srinagar city in Kashmir is famous for this work.
Shopping will surely be a great experience in Jammu and Kashmir.