Patnitop Tourism
A Hill-Station With Unmatched Beauty And Adventure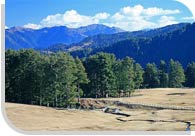 Located in the Shivalik belt of the Himalayas, Patnitop lies at an altitude of 2024 metres with all its natural beauty. This charming plateau is surrounded by dense woods and lush greenery of Pines and is considered one of the best-developed tourist spots in the Kashmir valley. It is situated about 112 km from Jammu on the Jammu-Srinagar highway. Because of its tranquility and refreshing sites, Patnitop draws a number of tourists throughout the year.
The River Chenab flows in close proximity to the location. In ancient times, there was a pond "Patan Da Talab" (meaning pond of the princess) where the princesses used to take bath. The town was called 'Patnitop' in the British era because of this pond. There are three ice-cold freshwater springs in Patnitop which are believed to have medicinal properties. Although it is relatively unknown in comparison to other hill stations of the state, it is unbeatable in terms of natural beauty and adventure sports.
Attractions in Patnitop
The Naag Temple
This 600-year old temple is devoted to Lord Shiva and witnesses a large number of devotees on festivals like Naag Panchmi, Shivaratri etc. The ancient architecture of the temple is truly spell-binding.
Trekking
Patnitop is an ideal starting point for many short or longer treks to the nearby destinations or hills. The picturesque walks to nearby areas like Sanasar, Sundarani or Shiva Garh (about 11 km) are the real pleasures at Patnitop. These walks offer splendid view of the mountains in the Chenab Basin.
Skiing
The town receives heavy snowfall in winters. The snow covered slopes of Patnitop are perfect skiing sites, for beginners. For those seeking more adventure, Madhatop (5 km) is a more difficult spot.
Paragliding
Aero sports are quite popular in town. The months of May-June and September-October are considered most favourable for paragliding. Hot-air Ballooning is another popular activity in Patnitop.
Accommodation
Despite being a small town, Patnitop is visited by lakhs of tourists every year. The town offers various private huts, tourist bungalows, budget hotels and luxurious hotels for comfortable and isolated accommodation. Most of the accommodation units are maintained by J&KTDC.
Getting There
By Air: Jammu (112 km) is the nearest airport.
By Rail: The nearest railhead is Jammu.
By Road: Patnitop is well connected with all the major cities of the state by state road transportation. Buses ply from Jammu quite frequently. Private taxis are also available for intercity as well as local transportation.