Lakes in Jammu and Kashmir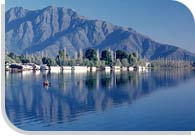 Gleaming with heavenly beauty, the romantic and fascinating lakes of Jammu and Kashmir are the pride of the state. Renowned the world over for their charm, the lakes of Jammu and Kashmir attract tourists from across the globe. There are several wonderful lakes in the state. The best time to visit the lakes is from April to October.
Some of the most beautiful lakes in Jammu and Kashmir are:
Dal Lake - The Epitome Of Beauty
The pristine beauty of Dal Lake not only attracts tourists but has also been an inspiration for some great personalities such as Sir Walter Lawrence. He gave the lake a title "The Lake Par Excellence", a truly apt title for the lake. The lake is encircled by the lofty mountains on its three sides. A ride on the wonderful Shikaras and houseboats floating on the lake is the perfect way to enjoy the natural beauty of Jammu and Kashmir. Lined with the famed Boulevard road, the lake offers dramatic sceneries. The lake is dotted with numerous houseboats, and the lush green surroundings add more charm to it. There are also several small islands in the lake.
One of the striking attractions of Dal Lake is the Floating Gardens. The gardens look paradisaical during the months of July and August when the beautiful lotus flowers bloom in them. These floating gardens are known as 'Rad' in Kashmiri language.
Nagin Lake
Originating from the outstanding Dal Lake, Nagin Lake is also a mesmerizing lake attracting visitors from far and wide. This lake is separated from the Dal Lake by a causeway, which offers lovely views of the lake. Located at the foot of the Zabarwan Mountain, Nagin lake is lined by beautiful trees. Shikaras are available on rent for tourists to take an exhilarating ride.
Mansar Lake
The wonderful surroundings of Mansar Lake embodies rolling hills carpeted with forests. Stretching over a mile in length and half a mile in width, the Lake is located 62 km from Jammu. It is a holy lake, and to perform three circumambulations (parikrama) around the lake by newly weds is considered auspicious. There is a temple located on the eastern bank of the lake, dedicated to Sheshnag, the lord of serpents. Boating facilities are available at the lake.
Manasabal Lake
Occupying an ideal location in the beautiful valley of Jhelum, Manasabal Lake is one of the famous picnic spots in Jammu and Kashmir. This lake derived its name from the pious Mansarovar lake.
Wular Lake
This beautiful lake is the largest freshwater lake in India. The Jhelem river flows into this lake.