Rajasthan Adventure Sports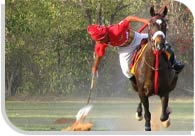 Step into the wonderland of Rajasthan and experience a variety of adventurous sports. The varied topography of the state offers amazing opportunities of adventure sports to quench the thirst of adventure freaks. Adventure and sports have been an integral part of the lives of Rajasthanis since ages. The Raja-Maharajas of Rajasthan were very fond of adventurous sports and actually took pride in pursuing them. If kings of Rajasthan were experts in horse riding, hunting, wildlife safaris and polo, the villagers honed their skills in camel races and cart races. Tourists can enjoy a wide variety of adventure sports in Rajasthan. Filled with thrill, fun and entertainment, adventure sports in Rajasthan play an important role in attracting tourists from far and wide.
Popular Adventure Sports in Rajasthan

Polo
The royal sport of Polo was once the favourite sport of Raja-Maharajas of Rajasthan. Rajasthan has amazing polo grounds where polo is played on camel-back, horse-back, elephant-back and even on bicycle. Even today this game is considered royal.

Ballooning
You can fly in a hot air balloons in popular cities of Rajasthan such as Jaipur, Jaisalmer, Jodhpur, Bikaner, Kota and Udaipur. One can reach the famous Pushkar fair in Pushkar riding on a hot air balloon.

Camping
Offering adventure in abundance, camping in Rajasthan is a popular adventure sport with tourists. The tents have bedrooms, leisure area and attached baths. The interiors of the tents are made classy with rich fabric and royal paintings.

Trekking
Trekking is truly fun in Rajasthan. The Mewar belt of Udaipur-Kumbhalgarh, Mount Abu or the Sariska-Alwar-Amer belt are the best trails for trekking.

Kite Flying
The enthusiastic Rajasthanis are expert in flying kites. This thrilling activity is also a part of the famous Kite Festival of the state. The colourful kites of various designs and sizes flying in the sky look mesmerizing. During the Kite Flying festival Kite Flying competitions are held, and attracts many a spectator.

Vintage Car Rally
The kings of the yore were passionate about motorcars and over the years car rallies became a popular sport in Rajasthan. Some of the heritage hotels still posses vintage cars to offer a pleasurable and royal ride to their guests.
Don't be surprised if you get the opportunity for water sports in Rajasthan. In fact water games during the Asian Games in 1982, held in Ramgarh in Jaipur, the pink city of Rajasthan, marked the beginning of water sports in Rajasthan.

Boating
The beautiful lakes of Rajasthan offer great opportunity of boating to the tourists. Enjoy the picturesque scenes of Rajasthan on a tranquil boat ride..

Water Skiing
It is the latest addition to the list of water sports in Rajasthan.

Angling
Tourists can enjoy angling at the beautiful lakes of Rajasthan, teeming with fish.

Safaris
Explore the world famous wildlife sanctuaries and the various destinations in Rajasthan on a Jeep safari, camel safari, elephant safari or horse safari. Interesting options are available.