Himachal Pradesh Adventure and Sports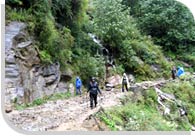 Himachal Pradesh is synonymous with adventure sports as it is endowed with amazing topography: snow-capped mountains, rivers, forests, meadows, arduous passes, beautiful valleys and lakes. What else can one ask for! Enjoy the adventurous magic of Himachal Pradesh. From camping to trekking, rock climbing, mountaineering, river-rafting, para-gliding, hang gliding and fishing, the fabulous destination of Himachal Pradesh invites you to satiate your thirst for adventure.
Trekking In Himachal Pradesh
Himachal Pradesh is a trekker's paradise as it offers around two hundred and seventy great trekking trails. Some of the most exciting trekking trails in the state are the Dhauladhar and Pir Panjal ranges, routes over the passes between the Shimla region and the Kullu valley, and the Trans-Himalayan regions of Kinnaur, Lahaul and Spiti. The best time for trekking in Himachal Pradesh is from March to August.
Skiing In Himachal Pradesh
Full of adventure and excitement, skiing attracts many a tourist to Himachal Pradesh. If you are inclined towards skiing, head to Kufri, which is the best place to enjoy this sport. Mahasu ridge (a little above Kufri) is also visited by skiing buffs. The famous skiing destinations near Manali are the Solang Nallah, Patalsu, Kothi, Marhi and Rohtang slopes. Narkanda(64 km from Shimla) is another fantastic skiing destination.
Heli Skiing, a fascinating adventure sport, can also be enjoyed at Himachal Pradesh at Hanuman Tibba, Rohtang Pass, Deo Tibba and Chanderkhani Pass.
Camping In Himachal Pradesh
Include camping in your tour itinerary of Himachal Pradesh and enjoy the mesmerizing scenic beauty of the land. The camps offer accommodation, food and some adventurous activities such as hiking, fishing, nature walk and rafting. Camps are organized at various places in the state such as Lahaul, Kinnaur, Spiti, Dalhousi, Kullu and Manali.
Hang Gliding In Himachal Pradesh
It offers great opportunities to tourists to enjoy nature at its best in Himachal Pradesh.
Mountaineering And Rock Climbing
Mountaineering and Rock Climbing are some other mind-boggling adventure sports of Himachal Pradesh. Both easy and treacherous routes are available. The best places for amateurs are the Beas Kund region, the lower reaches of the Hinaman Tibba, the Manali and the Shitidhar peaks around the source of river Beas, and Deo Tibba. The Chandra Bhaga range and the Pir Panjal are suitable for the more experienced ones.
Golf
The best place to enjoy Golf, the royal sport, is Naldhera, which is 23 km from Shimla.
Ice Skating
Shimla gets flooded with tourists with the advent of December as this the month when Shimla offers exciting opportunity for Ice skating. The sport can be enjoyed here till February .
Angling
The streams of Himachal Pradesh teem with a variety of fishes such as mahaseer. Angling is truly a delightful experience in Himachal Pradesh. The upper reaches of the river Beas in the Kullu valley and its side-streams such as the Sarvari, Parbati, Sainj, Hurla and Tirthan are hot spots for angling.
So much to choose from!