Food / Cuisine of Himachal Pradesh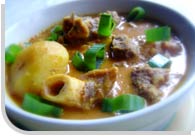 Himachal Pradesh is not only famous for its pristine beauty but also for its fine culinary delights. The state is blessed with a range of native fruits, vegetables, herbs and spices which are used liberally in the local cuisine. The neighbouring lands of Punjab and Tibet have influenced the cuisine of Himachal Pradesh to a great extent. The topography and climate of Himachal Pradesh is another factor that influences its cuisine. The day-to-day food of the Himachalis consists of rice, meat, lentil and pulses. The most common dishes prepared in the average kitchen of the Himachal are rice, maahni(urad dal prepared with dried mangoes) or madra (lentils made with yoghurt). Sattu is a popular dish of the state.
The kitchens of Himachal also churn out delicious non-vegetarian dishes, which are flavoured with ghee and spices such as cardamom, cinnamon, cloves and red chillies. Milk and milk products are also used generously. Himachalis are very fond of tea and they prepare it in different ways. 'Sidu' is one of the most famous dishes of Himachal Pradesh. It is a kind of bread made from wheat flour, which is usually relished with ghee, dal or mutton. Patande, a delicious culinary delight made of wheat, is like a pancake.
Dham
is an interesting and delicious meal of Himachal Pradesh, which is prepared on festivals. This meal is considered sacred and is prepared only by Brahmin chefs. The meal consists of rice, moong dal and rajma cooked in yoghurt. Other dishes of Dham are boori ki kari and a dark lentil garnished with sweet and sour chutney made of tamarind and dry fruits. Not only this, the hearty meal also includes a sweet dish prepared with sweet rice and dry fruits. Ankalos is another dish made up of rice flour, served during the festivals.