Pilgrimage in Himachal Pradesh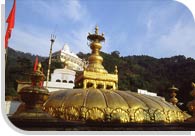 Popularly known as the 'land of Gods', Himachal Pradesh is home to unlimited pilgrimages, which are renowned across the country. Some of the pilgrimages of the state have even earned international fame. The state has been an abode of great sages since time immemorial. And the pilgrimages in the state are not only known for their religious importance but also for their fascinating scenic beauty. The captivating land of Himachal Pradesh is dotted with numerous Temples, Buddhist monasteries and Gurudwaras, each having its own legend to tell. Most of the legends are really interesting. With the presence of such different religious sites, the state is a symbol of unity in diversity. These religious centers are held in high respect by the people and are visited by millions of devotees from different parts of the globe.
Reflecting the architectural heritage, the various pilgrimage centers of Himachal Pradesh also mesmerize the visitors with their commendable architectural beauty. These pilgrimages speak volumes about the rich religious past of the state. They become venues for celebration during the festive season. Numerous fairs and festivals are celebrated in these religious sites with great enthusiasm.
Some of The Famous Pilgrimages of Himachal Pradesh are:
Jwalamukhi Temple: Considered a miraculous temple as it emits perpetual flames, which are worshiped as the incarnations of the goddess.
Baijnath Temple: It is a beautiful temple dedicated to Lord Shiva.
Manikaran: It is a sacred land blessed with hot water springs believed to have medicinal and curative properties. It is believed that a bath in the springs can cure muscular and bone diseases.
Naina Devi Temple: A beautiful and a famous temple of the Hindus, Naina Devi attracts many a devotee.
Chintpurni Devi: Thousands of devotees from across the country come to the temple to receive blessings of the goddess Chintipurni.
Laxmi Narayan Temple: Steeped in immense architectural beauty, the temple holds a lot of significance for the Hindus.
Key Monastery: It is the oldest and the biggest monastery of the Buddhists, the Key monastery draws both devotees and tourists.