Kinnaur Tour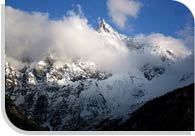 The most striking feature of the beautiful district of Kinnaur is its geographical location. It is hemmed in by Tibet in the east and boasts of three majestic mountain ranges namely the Zanskar, Greater Himalayas and Dhauladhar. The district encompasses mesmerizing valleys of Sutlej, Spiti, Baspa and their tributaries. Pay a visit to these valleys and enjoy the arresting scenic beauty of Himachal Pradesh. The views of the forests, orchards, fields and hamlets are simply awe-inspiring. During your visit to the Kinnaur district don't forget to taste the 'high on quality' apples, chilgoza and dry fruits, which are famous across the country for their taste and quality.
Kinnaur district was open to tourism in 1989 and today it is fast gaining the reputation of being a wonderful tourist destination of Himachal Pradesh. The old Hindustan-Tibet road connecting Himachal Pradesh to Tibet passes through the Kinnaur valley along the bank of the river Satluj. The most propitious time to visit the district is in April and May and in September and October.
Retaining the rich cultural heritage of their past generations, the people of the Kannaur district are simple and friendly. Their customs and traditions add more colour to the already charming Kinnaur district. The district is considered sacred as at one point of time the Pandavas made this district their temporary home while they were in exile. According to the ancient Hindu mythology, the people of Kinnaur are known as Kinners, halfway between men and gods. Hinduism and Buddhism are the two main religions followed by the people of Kinnaur. The land of Kinnaur is dotted with several beautiful monasteries and temples where devotees from far and wide come to offer prayers.
 The fascinating topography of the district offers ample opportunitues for adventure sports such as trekking, wildlife safari and boating. The most exciting trekking route of the district is the 'Parikarma of Kailash'. You can enjoy boating at the picteresque Nako lake and go wildlife sighting at the three wildlife sanctuaries namely the Lipa-Asrang Sanctuary, Rakchham Chhitkul Sanctuary and Rupi Bhaba Sanctuary. These sanctuaries are home to a wide variety of flora and fauna.
Reckong Peo, a mesmerizing tourists attraction of Kinnaur district offers a spectacular view of the Kinner Kailash Peak. The notable attraction here is a 79 feet high rock that resembles a Shivalinga, changing colour as the day comes to a close.
Moorang is a beautiful village encircled by the high mountain ranges. Overlooking the river Satluj, the fort at Moorang is believed to be built by the Pandavas.
There is plenty to enjoy and experience at Kanaur!