Palampur Tour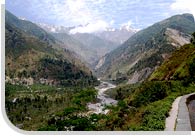 Popularly known as the tea capital of North India, Palampur is a beautiful hill station located in the Kangra valley, near the Dhauladhar ranges in Himachal Pradesh. Easily accessible from the famous Dharamshala, Palampur has an elevation of 1,220 m above sea level. Palampur derived its name from the word 'Pulum', meaning plenty of water. It was once a part of the local Sikh Kingdom and later came under the British rule. There is plenty of natural beauty available here, which attracts many a tourist. There are numerous tea gardens and paddy fields in Palampur, making it a pleasant and refreshing destination. Take a stroll through the tea gardens and treat your senses to pollution-free air and beautiful views. The colonial architecture and several beautiful temples of Palampur have a major contribution to its popularity. The best time to visit Palampur is from March to June and mid-September to November.
The overwhelming adventure sports opportunities available in and around Palampur add a different flavour to the holidays. Bir and Billing are the most famous destinations of Palampur when it comes to adventure. Located near the aromatic tea gardens is Bir, which is a landing ground for hang and para gliders. This place is also famous for several Buddhist monasteries. Also scan this place for the amazing Tibetan handicrafts.
Billing, the other adventure site near Palampur is known to be one of the finest aero sites, offering high altitude and flying opportunities. Another fascinating tourist attraction of Palampur is an ancient temple dating back to 804 AD. The Temple is dedicated to lord Shiva.
Embark on the trekking routes and add more excitement to your tour. Some of the interesting trekking routes are from the Sanghar pass to Bharmaur via Holi and from Baijnath over the Jalsu pass to Bharmaur. Located in the vicinity of Palampur, the Bundla Chasm is a place where a beautiful waterfall rushes down into the Bundla stream. Another nearby attraction of Palampur is the Neogal Park, located a mere 1 km from Palampur, offering picturesque views of Dhauladhar range.
Indulge in shopping at the Andretta village, located at a distance of 13 km from Palampur. This village is famous for its wonderful crafts, especially pottery. Sujanpur Tira is another place near Palampur, which is worth a visit. The forts and old temples located at this place are notable.