Manali Tour
The Valley of Gods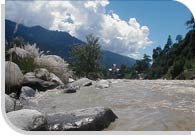 Encompassed in sheer natural beauty, Manali is a fascinating hill station located in the majestic Himalayan mountains of Himachal Pradesh. Be it adventure, scenic beauty, salubrious climate or rich cultural heritage, Manali offers it all. Perched at an elevation of 2625 m, Manali is a part of Kullu district. It is held in high regard by the Hindus as it was once the abode of the Saptarshi or seven sages. Manali was named after a sage called Manu Rishi who once lived here and inscribed the first constitution of India called "Manu Samriti". The word Manali literally menas "the abode of Manu". It is also one of the choices of Bollywood film makeres for shooting.
Attractions Of Manali
Vashist Village
It is a beautiful village in Manali, flocked by the tourists for its natural hot springs and Buddhist temples. Most of the population of this village consists of Buddhists.
Solang Village
Offering fabulous scenic beauty, the Solang Village is a captivating destination and the credit goes to its "snow point". You can treat yourself to mesmerizing views of the glaciers and the snow-capped mountain ranges at the snow point.
Rotang Pass
The Rotang Pass promises to enchant its visitors with its celestial beauty. Located at an elevation of 13,050 feet above sea level, Rotang Pass is a destination of unspoiled beauty. Rotang Pass is synonymous with ice and the best time to visit it is June.
Hadimba Devi Temple
The history of this temple dates back to 1553. Its flawlessly carved doorway and four tiered pagoda roof are notable.
Manu Temple
Dedicated to the great sage Manu, the temple is visited by many a visitor.
Manikaran
Known for its hot spring, Manikaran is located at a height of 1700 m. The hot spring is considered sacred because it is here that goddess Parvati, the consort of lord Shiva, lost her earring. It is considered auspicious to take a dip in this hot spring.
Arjun Gufa
There is a legend associated with this Gufa and it goes that Arjuna, one of the pandavas, meditated here to earn Pasupata Astra from Lord Indra.
Adventure in Manali
A Jeep safari is an interesting way to explore Manali. The best route for a Jeep Safari is from Manali to Leh, which remains open only form June to September.
Mountaineering in Manali
Manali offers exciting opportunities for mountaineering. Apart from offering entertainment and thrill, this expedition gives an opportunity to view the scenic beauty of Manali.
Snow Skiing in Manali
The snow covered stretches of Manali are perfect destinations for snow-skiing. The training courses and facilities for snow-skiing are made available by the Directorate of Mountaineering and Allied Sports. Tourists can hire skiing equipments from HPTDC office at a reasonable price. However, indulge in this adventurous activity only if you are physically and mentally healthy.
Come and explore the overwhelming Manali with us and take back home some golden memories!
Best Selling Manali Tours

| | |
| --- | --- |
| | Duration: 11 Nights - 12 Days |

| | |
| --- | --- |
| | Duration: 11 Nights - 12 Days |

| | |
| --- | --- |
| | Duration: 18 Nights - 19 Days |

| | |
| --- | --- |
| | Duration: 11 Nights - 12 Days |

| | |
| --- | --- |
| | Duration: 08 Nights - 09 Days |