Art and Handicrafts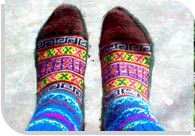 "Art strives to express; craft strives for excellence. Good art has good craft, good craft is artistic. Within every craft there exists artists. Within every artist there is craft."  Ralph Reichenbach & Doug Madill
The creative minds of the craftsmen of Himachal Pradesh have given birth to an astonishing range of handicrafts. Contributing a great deal to the glorious cultural heritage of Himachal Pradesh, the handicrafts have even earned international fame. Celebrated in India and abroad for their fineness and beauty, the handicrafts of Himachal Pradesh fascinate many a tourist. From stone and metal statues to dolls, pottery, paintings, rugs, carpets, shawls and jewellery, Himachal Pradesh has a lot to offer.
Woollen Craft
Wool is considered sacred by Himachalis and wool weaving has been famous in Himachal Pradesh for ages. The state is known for its fine-quality shawls and caps. Pashmina is the most famous type of shawl, it is quite expensive as it is the finest quality of shawl available in India. The shawls with beautiful geometrical patterns and colours are popular with tourists. Carpets and blankets in several designs and colours are the other woollen crafts available in Himachal Pradesh.
Metal Craft
The best place to see the captivating metal art of Himachal Pradesh is its temples. The metal idols of the gods and goddesses in the temples are very beautiful. Metal is also used in an artistic way to make temple doors. Other metal wares available in the state are bells, incense burners, lamps, jars, flasks, tridents and canopies. Several household items made of metal are also available here. Scan the towns of Bilaspur, Chamba, Kupa, Rekong Peo, Rohru, Sarahan and Jogindernagar, famous for metal craft.
Stone Craft
Stone carving is an important tradition in Himachal Pradesh. The stone temples are the best examples of the art of stone craft. Exquisitely carved images inside the temples leave the onlookers awe-inspired. Several household items such as traditional stove, circular pots, mill stones etc, are also carved out of stone. Places such as Mandi, Chamba, Kinnaur and Shimla are known for stone craft.
Wood Craft
The craftsmen of Himachal Pradesh are expert in carving beautiful wooden objects such as doors, windows, panels, benches, beds, cradles, bedsteads, low settees, boxes, ladles, churners, utensils, jewellery, images, baskets etc.
Paintings
Influenced by various themes like love, the legends of Krishna and Radha and hunting scenes, the paintings of Himachal Pradesh are an important part of its handicrafts.
Leather Crafts
The plain and embroidered footwear called Chamba chappals are famous in Himachal Pradesh. This colourful embroidered footwear looks very attractive. They are available in various designs and colours. Other leather crafts such as shoes, belts are also available in the state.
Jewellery
Beautiful silver and gold jewellery of Himachal Pradesh fascinate many a tourist. Coin necklaces are quite popular with tourists. But the jewellery famous during the times of Raja-Maharaja can only be seen in the museums of the state. The Kangra Art Museum in Dharamshala and the State Museum in Shimla are the best places to see the antique jewellery of Himachal Pradesh.