Katra - Vaishnodevi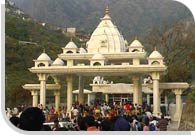 The Manifestation of Goddess Shakti
One of the most revered sacred sites of the Hindus, the shrine of Mata Vaishnodevi is located 16 km north of Jammu and 13 km of Katra, in the mountains of Trikuta Hills. The cave temple is devoted to Goddess Vaishnavi, the incarnation of Goddess Lakshmi, Goddess Kali and Goddess Saraswati. The shrine of Vaishnodevi is situated at an altitude of 1,700 mt. People believe that anybody who walks to the abode of Mata Vaishnavi to ask for a boon rarely goes back disappointed.
Route
The 13 km distance from Katra town to the shrine is an ideal trek route. Trekking on this steep route offers a glimpse of the ancient temples and the scenic surroundings. The first stop on this route is Banganga at 1 km, that offers free food (langar). People also take a holy bath here. Charanpadhuka is the next stop at 2.5 km. It boasts of having the footprints of the Goddess. The third stop is at Adkuwari (3 km from Charanpaduka), marking the end of half of the journey. The fourth and the last halt before arriving at the cave shrine is Sanjichat, which offers a bird's eye view of Katra town, Udhampur and Jammu. Cafeterias (with pure vegetarian food) are available throughout the journey.
The Cave
At the end of the 30 m long and 1.5 m high cave of Vaishnodevi, lies a five and half feet tall rock with three Pindies or heads. The holy pindies depict the three sacred forms of the Goddess - Maha Kali, Maha Lakshmi and Maha Saraswati. One can see symbols of Lord Ganesha, Lord Surya, Lord Chandra and several Gods and Goddesses of the Hindu pantheon inside the cave.
March-April and September-October are considered the best times to visit the shrine of Mata Vaishnodevi, as it is very cold during the rest of the year.
How To Reach
By Air: The nearest airport is in Jammu (48 km from Katra). One can commute by bus or taxi from Jammu to Katra. Besides, a helicopter service is also available.
By Train: The nearest railway station is also in Jammu.
By Road: It takes only a couple of hours to reach Katra from Jammu by bus or taxi.
Trekking: From Katra to Vaishnodevi is a steep 13 km walk. One can also hire a horse to reach the shrine. It takes about 4 hours to climb up the shrine and 3 hours to come down on foot. Recently a helicopter service has also been introduced.