North India Fairs and Festivals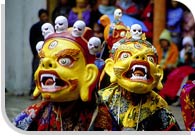 Fairs and Festivals are an integral part of the colourful culture of North India. Reflecting and speaking volumes about the rich heritage of North India, the fairs and festivals are celebrated with great zeal and fervour. Each and every festival celebrated in North India  has a legend associated with it. From harvesting festival to the festival celebrating the victory of good over evil, North India celebrates a variety of fairs and festivals. Tourists can enjoy amazing fairs and festivals in North India, which offer them a wonderful opportunity to acquaint themselves with the great culture of India. Colourful processions, prayers, new dresses, dance, music and feasts are an important part of the fairs and festivals of North India.
Some of the famous festivals of North India are:
Holi: It is the most colourful festival of North India, celebrated with great enthusiasm, especially in Mathura, Uttar Pradesh. During this festival, people paint each other with colourful colours and feast on delicious sweets. Drenched in colours, people greet each other and dance away to glory. It is celebrated in the month of March/April.
Janmashtami: It is the festival celebrating the birth of Lord Krishna. Ages ago, Lord Krishna took birth in Mathura to show that good is always powerful than evil. Devotees keep fast on this day and sing devotional songs in the praise of the Lord.
Diwali: It is the festival of light celebrating the victory of good over evil. During this festival, houses are decorated, small lamps (diyas) are lit, Goddess Laxmi is worshipped, crackers are burnt, and gifts are exchanged. It is one of the most important festivals of North India. It is celebrated in the month of October/November.
Pushkar Fair: It is the largest cattle fair in the world, celebrated in October/November in Rajasthan. Filled with several cultural activities, the fair attracts people from across the world.
Surajkund Craft Mela: Displaying wonderful traditional handicrafts of several states of India, Surajkund Craft Mela is very popular with tourists. Visitors can also relish a variety of dishes from various states at the Mela. Dance and music performances are also a part of the Mela. This fair stretches for 15 days.
Hemis Festival: Celebrated in Hemis Monastery for two days in June/July in Jammu and Kashmir, Hemis Festival is a colourful fair offering a wide variety of handicrafts.
Taj Mahotsav: It is a ten-day festival celebrated in Agra in the month of February every year. Showcasing the rich heritage of Uttar Pradesh, Taj Mahotsav has a lot to offer to the visitors—arts, crafts, cuisine, dance and music performances.