Monasteries of Ladakh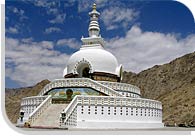 Ladakh can be aptly called the land of monasteries. A majority of Ladakhis are Tibetan Buddhists and the land is dotted with numerous monasteries which are rich in architectural beauty. The beautiful and historic monasteries of Ladakh are inhabited by the Buddhist monks and nuns where they study and practice their religion. Ideally located in peaceful and picturesque locations, the monasteries house a rich and rare collection of Buddhists Thangka paintings, arts and artifacts. These monasteries are commonly known as Gompas.
Some of the important monasteries in Ladakh are:
Hemis Monastery
Situated 45 km from Leh, Hemis monastery is the biggest monastery of Ladakh. The striking feature of the monastery is its mesmerizing frescoes and the largest Thangka painting, with a height of 12 m. Home to the Brokpa or Red Hat sect, the monastery was built in the year 1630. Every year in the month of June/July, the monastery becomes a venue for the Tse Chu festival, which is famous for its colorful masked dance. The festival celebrates the anniversary of Padmasambhava, the founder of Tibetan Buddhism. The Hemis festival, popular for its beautiful handicrafts, is also celebrated here every year. People from far and wide come here to enjoy the festival.
Namgyal Tsemo Monastery
Namgyal Tsemo Monastery houses a three-story high Buddha idol, which is notable. The monastery was constructed in 1430 and has a fort near it, now almost in ruins, but offers panoramic views of the surroundings. The monastery has beautiful frescoes and ancient manuscripts.
Sankar Monastery
The Sankar Monastery is home to the Buddhists of Gelukpa or Yellow Hat sect. Located only 2 km from the city center, the monastery houses a huge image of Avalokiteshvara, with (the Buddhist deity of compassion).
Shanti Stupa
The foundation of the Shanti Stupa was laid by a Japanese Buddhist organization to commemorate 2500 years of Buddhism and to promote world peace. It has a splendid white-domed establishment, which was inaugurated by His Holiness the Dalai Lama in 1985. The Stupa offers breathtaking views of sunsets and sunrise.
Likir Monastery
Built in the 18th century, Likir monastery shelters monks of the Gyalukpa sect. The monastery is also known as the Klu-Kkhjil or 'water spirits'. Here you will get an opportunity to see the wonderful collection of paintings, robes, manuscripts and artifacts. The monastery also hosts the Likir Festival from the 17th to the 19th day of the 12th month of the Tibetan Buddhist calender.
Thiksey Monastery
It is a twelve story high monastery with numerous statues of Buddha, a pillar inscribed with Buddhist teachings, a 15 m high Maitreya Buddha in the main prayer hall and a rich collection of Buddhist art. 
Spituk Monastry
The fabulous location of the monastery on a hill overlooking the Indus river attracts many a tourist. The monastery houses a great collection of Buddhist artifacts. The Spituk Festival is celebrated here from the 17th to the 19th day of the 11th month of the Buddhist calender.