Double Humped Camel Ride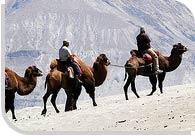 Take a ride to some of the ancient passes and have a glimpse of village life in Ladakh through a Camel Safari. This unique safari has always proved to be a fascinating part of a Ladakh Visit. The 'ship of desert' is something more than just a mode of transport in the frozen desert of Ladakh. Camels have been a chief mode of exploring rugged mountaineous terrains since ancient times. It is probably the most remarkable experience of your trip, rolling on the back of a camel exploring the remotest areas and villages of the Nubra Valley.
Double Humped Bactrian Camels offer the most enchanting ride in
Nubra Valley
. These double humped camels were earlier used by traders as pack animals to load spices, fruits, clothes, etc. For the last 50 years, they have been bred from the tourism point of view. They can carry two to three adults at a time and can travel for miles. In the past few years, these camels have emerged as the hot favorites among tourists for
camel safaris
. A double-humped camel ride is quite popular at
Deskit and Hunder
. One can enjoy the scenic beauty of the Ladakh valleys, villages, especially the Panamic village, and the colorful Buddhist monasteries or Gompas. A double-humped camel ride is popular in Ladakh and is considered one of the best camel safaris throughout the world.