Fairs and Festivals of Ladakh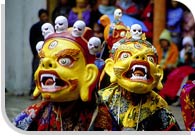 The celestial land of Ladakh hosts many fairs and festivals throughout the year. The zest and enthusiasm of the people of Ladakh for celebrations show how lively and passionate they are about life. Forging the bonds of brotherhood, the fairs and festivals are a great time for celebration.
Most of the fairs and festivals in Ladakh are celebrated in the Gompas, which become the venues for the exciting cultural activities. An interesting dance-drama is performed by the Lamas dressed in colorful robes and wearing masks. It features various facets of the religion, one of which is the progress of the individual soul and its purification. These fairs and festivals not only offer enjoyment but also teaches a lot about life.
Some Of The Famous Fairs And Festivals Of Ladakh Are:
Hemis Festival
Hemis Festival is the most famous festival of Ladakh, celebrated with great fervor. Held for two days, in the month of June/July, the festival is celebrated in the Hemis Monastery. The festival commemorate the birth of Guru Padmasambhava who is believed to have worked for humanity by saving people from the wrath of demons. A wide variety of handicrafts are also on sale during the festival. The festival is marked by sacred dances and amazing musical performances. The mask dance, with the message of the victory of good over evil, performed by the lamas deserves mention.
Ladakh Festival
Come September and the preparations for the popular Ladakh Festival start. The festival is organized by the Jammu and Kashmir Tourism Department. Showcasing the rich culture of Ladakh, the festival offers an opportunity to tourists to get acquainted with the wonderful culture of Ladakh. Music and dance is an important part of the festival. A Polo competition is also held during the festival.
Losar Festival
Celebrating the arrival of the Ladakhi new year, Losar is held during the winter months of December or January. The festival stretches for two weeks offering a lot of fun and enjoyment to the people. During the festival, Ladakhi Buddhists offer prayers, offerings and perform traditional rituals.
Ladakh Harvest Festival
Celebrated for a period of 15 days in the month of September, Ladakh Harvest Festival occupies a special place in the hearts of the Ladakhis. Music, dance, Polo, theater etc are all a part of this celebration.
Tak-Tok Festival
It is a wonderful festival celebrated at an interesting venue - the cave of Tak-Tok. It is an important festival of Ladakh which attracts a lot of visitors.