Art and Handicrafts Ladakh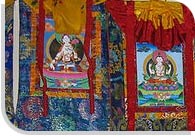 Artistic Beauty of the Little Tibet.
Ladakh might be India's most remote region, yet its beauty is incomparable. The tradition of artistic craftsmanship in Ladakh is very old. Mostly all the handicraft items of the region originated from the local tribes. Ladakhis are known for making metal sculptures, knitting, weaving, cabinet-making, painting etc.
Metal Work
The metal workers of Ladakh are said to be the descendants of artisans brought from Nepal in the 17th century to build the gigantic Buddha. Presently, these people are considered experts in making idols of Gods/Goddesses, sculptures, small furniture and showpieces of various metals. Local artisans also use silver, brass and copper to design items for domestic and religious use including tea pots, teacup-stands and lids, hookah- bases, ladles and religious idols.
Woolen Items
Ladakhis shear wool from goats and sheep twice a year. The Government has set up higher altitude fields for the breeding of sheep and goats. The village of Chilling, about 19 km up the Zanskar river from Nimo, is one of them. The tribes of Ladakh produce the maximum wool in the region. They are good in knitting Pattu (a rough, warm, woolen material made from locally produced wool). The District Handicrafts Centre at Leh and the Tibetan Refugee Centre at Choglamsar are popular for a few special items like pashmina shawl, carpets, woolen garments, locally handmade woolen socks, gloves, caps and sweaters. Winter blankets, goncha (a long robe of cotton or wool for men), perak (embroidered headgear) etc are also the specialties of Ladakh.
Jewellery
Tibetan silver jewellery and traditional Ladakhi jewellery attract a number of tourists. These jewellery items are specially designed and moulded by the local Ladakhi silver-smiths.
Wooden and Bamboo Items
Woodwork is limited to household items only. It comprises of low carved tables or Chog-tse, chairs, pillars, beds, curdles for babies etc. Ladakhi bamboo work is known for the finest of baskets.
Other Items and Artwork
Ladakh is known for the vast variety of traditional crafts and fine works. One can find colorful and bustling bazaars (like the Tibetan Market off Old Leh Road and Moti Market near the Leh bus stand) where he/she can purchase different varieties of curios and souvenirs. There are several unique items in Ladakh which attract the tourists. These items include the bowls and cooking pots for the kitchens, thangka paintings, murals etc.
A few good venues for shopping in Ladakh are:
Ladakh Art Palace (Main Bazaar Road)
Tibetan Handicraft Emporium (Main Bazaar Road)
Ladakh Environment and Health Organization (Main Bazaar Road)
Tibetan Handicraft Community Showroom (Choglamsar)
Cottage Industries Exposition (Changspa)
Ecology Centre (Changspa)
Women's Alliance (Changspa)